Tacoma, WA — A surreal air swept over the night that a once dormant My Chemical Romance erupted on the stage of Tacoma Dome, following a warm-up by "emo" post-hardcore cohorts Taking Back Sunday and anti-folk singer-songwriter Kimya Dawson from Olympia, WA.
The show arrived nearly 3 years after the Halloween 2019 announcement of the reunion, and 9.5 years following the March 2013 break-up of this band with a gargantuan legacy. To top it off, it had been 11 years since Washington state had last seen My Chemical Romance (MCR/My Chem) perform on September 1st of 2011, at White River Amphitheatre on the 10th Annual Honda Civic Tour, co-headlining with blink-182. Yet, somehow, as MCR released each note into the atmosphere on the evening of October 3rd, the achingly forlorn feelings that persisted throughout the years of their absence finally melted away.
Kimya Dawson
On March 9th of this year, Dawson announced she would be opening for My Chemical Romance at Tacoma Dome. As an acoustic guitar wielding solo artist with a folksy sound, some fans of the rock opera stylings of MCR initially found the choice of opener perplexing.
I'm so excited to announce that I'm opening for My Chemical Romance at The Tacoma Dome!!! WOOOOOOOO!!! So psyched (and nervous)!!!
🖤🐇🖤

Monday, October 03, 2022Tacoma, WATacoma Domehttps://www.ticketmaster.com/event/0F0058379DC3A7C9 https://t.co/MMXXQ5pdKD

— Kimya Dawson (@mrskimyadawson) March 9, 2022
She is best known as part of a duo named Moldy Peaches, whose song "Anyone Else But You" was at the end of the film Juno (2007), performed by Elliot Page and Michael Cera. Independent of Moldy Peaches, she contributed a whopping 12 songs to Juno – on its soundtrack, within the film but excluded from the OST, and a few "almost adopted songs" that were released on a b-sides soundtrack.
Dawson and her daughter Panda (who is also an artist), performed together in matching Ernie sweaters, à la Bert and Ernie from Sesame Street. For the duration of Dawson's performance, the big screens on each side of the stage stayed illuminated with her name and an illustration versus live video, preventing a visual of the artist and her daughter for the majority of the audience, and leading to some bewilderment when she said they were "just a couple of Ernies hanging out." The set included "You Are My Baby" – a song Dawson wrote for now 16-year-old Panda when she was a "little teeny tiny newborn". Kimya expressed, "I can't even believe it… being able to share the stage with my child is the best." MCR frontman Gerard Way later dedicated "Teenagers" to Panda.
"'[Moldy Peaches] are not sort of amateur, lo-fi indie,' said Geoff Travis, the founder and president of Rough Trade, an English independent label that once signed the Smiths and the Violent Femmes, and has recently signed both the Strokes and the Moldy Peaches. 'If Lou Reed was writing these songs at this age, he would be absolutely jealous. This is really serious, world-class songwriting … and the performance is so unusual, and it is so naked emotionally. It is very, very brave.'" - Deborah Netburn, Observer - "Sesame Street Meets Avenue A in Goofy Tunes of Moldy Peaches"
Listening to the sound of Dawson's songs coupled with her witty lyrics brought Amanda Palmer to mind, especially during "The Beer" with black humor reminiscent of Palmer's notorious "Oasis". As it turns out, "The Beer" was released in 2003 and "Oasis" was released in 2008. What's more, Palmer actually covered Dawson's song "All I Could Do" with her father Jack Palmer in 2015, and Dawson nodded to Palmer in a Tweet sharing an MTV article from November 2016 about whether oppression from Trump's presidency would lead to better music.
One link between Dawson and My Chemical Romance is their outspoken LGBTQ+ allyship.
@teffy_ramone Actually, the purpose of the stage persona was to challenge gender standards and homophobia.Not for slashfiction #pointmissed

— Gerard Way (@gerardway) June 22, 2013
During "I Like Giants", Dawson tweaked the lyrics after, "She said, 'I like giants, especially girl giants'" to add, "and trans and non-binary giants!" Before following "The Beer" with "Loose Lips", she said, "I don't know why I put this one back-to-back but we'll see what I can do," presumably because both songs are rather fast-paced.
Excerpt from "Loose Lips":
And we'll pray, all damn day, every day
That all this shit our President has got us in will go away
While we strive to figure out a way we can survive
These trying times without losing our minds 
(...full lyrics)
Mid-song, Dawson shout-sang, "Fuck fascism!" and proceeded to give an impactful monologue:

"On this day in 1967 Woody Guthrie died, and he was very outspoken against fascism, and I just wanted to acknowledge him, uh… he is the OG!" She went on to say, "…so, the original, like, lyric was, 'Fuck Bush', but that was like 20 years ago, and then I was saying 'Fuck Trump' but I don't even want to think about that guy. And I could be like, 'Fuck Marjorie Taylor Greene!', you know, 'fuck Matt Gaetz, fuck Ben Shapiro, fuck Mitch McConnel… DeSantis,' you know, 'Bezos… Proud Boys, TERFs… the list is endless… but not clowns. I love clowns." (Video)
kimya dawson saying fuck terfs mid-set made me feel so safe tonight 💛 i adore my grandpa

— Michael ☠️ SAW MCR (@seventhtype) October 4, 2022
Dawson's modest 6-song set was finalized as a trio with Panda and a surprise guest – MCR's rhythm guitarist Frank Iero – performing "Anyone Else But You".
Iero later wrote
on Instagram
:
"Last night i got to play one of my favorite songs with one of my favorite artists, before getting back up on that same stage a little later and playing more of my favorite songs with my best friends… all while my daughter watched and filmed. Life is pretty darn ok sometimes.
Thank you Kimya and Panda for being the absolute raddest and for sharing your stage with me, it was a dream come true. thank you Tacoma. Thank you rock and roll. music is magick. KTF 🖤 xofrnk"
Follow Kimya Dawson:
---
Taking Back Sunday
"We're here to warm you up for My Chemical Romance… Mikey Fuckin' Way is not coming out to a cold audience!" frontman Adam Lazzara declared amidst their set, referring to MCR's bassist.
Indeed, fellow "Taste of Chaos" tour veterans Taking Back Sunday (TBS) served as an integral segue between Kimya Dawson and My Chemical Romance.
Taking Back Sunday's 8-song set started with "What's it Feel Like to Be a Ghost?" from their 2006 LP Louder Now. The mix of Lazzara's dirty vocals and the band's instrumentals seemed to be off for the first few songs, and his stage banter felt a bit obligatory and forced. However, what may have seemed to constitute standard intros to band members between songs was actually rather significant to any fan aware of the band's dramatic history. Guitarist John Nolan and bassist Shaun Cooper left TBS in 2003, but returned in 2010.
Before starting the second song of their set, "A Decade Under the Influence", Lazzara gave big-ups to drummer Mark "Thunderbolt" O'connell, who lives true to his nickname "when his foot hits the kick drum". Following the song "Tidal Wave", he shouted, "…this is my pal, and yours… John Nolan on guitar!"
Their energy spiked and sound solidified with "Error Operator" and sustained through the 4 remaining songs, transforming them into that promised pre-heater. Unfortunately the screens continued to merely display a still image – Taking Back Sunday's panther logo – until My Chemical Romance performed. However, the energy of this rock band along with the spectacle of colorful stage lights brought satisfactory stimulation to the crowd.
It was surprising how much space was available in the general admission between the crowd and front row of seats, even after it later filled out a little more for the headliner. One of the most entertaining parts of TBS's performance was when someone dove beneath the barricade (separating row A of seats from the pit) as if they were on a stealth mission, and strolled up to the crowd.
"Ladies and gentlemen, we have but a-two songs left for you this evening," said Lazarra, which elicited a shocked and disappointed, "WHAT?!" from some fans. He continued, "Now, make no mistake, we are very well aware (as we feel it too), of how long you've been waiting for this show tonight… Us, too! So, with that said, I would like to thank each and every one of you for being so kind and showin' us a good time… Now, my pal John over here… he's gonna blow your minds. They don't call him 'tomcat' for nothing." (Video)
The last 2 songs of Taking Back Sunday's performance, "Cute without the 'E' (Cut from the Team)" and "MakeDamnSure", are guaranteed crowd-pleasers. Their most recent studio album Tidal Wave was released 6 years ago. Eddie Reyes, who originally founded TBS with former member Jesse Lacey of Brand New, departed the band in 2018 citing alcoholism as the culprit. In 2019, they released Twenty, a 20th anniversary compilation, and of course COVID-19 took over the world in 2020. All things considered, if they are resting on their laurels (mind you, touring and performing are no small tasks), perhaps they can be forgiven for doing so while the nostalgia of individuals formed on their music is still running high.
As part of a culmination of the emo revival that has been steadily expanding over the last several years (which has conflated emo and pop punk), Taking Back Sunday will continue to perform in the shadow of My Chem up through the last day of the seemingly-impossible "When We Were Young" festival, which is spread out over 3 dates on 2 weekends at the Las Vegas Festival Grounds.
Despite the fact that multiple massive festivals have taken place and continue to be planned since the pandemic eased up (such as Coachella, Lollapalooza, Innings, Bonnaroo, Firefly, Aftershock, Austin City Limits, Zona, and more), this particular festival stood out as "too good to be true" and has received heavy speculation and criticism over logistics and feasibility – especially initially, when only one 1 day was announced. It was called "the next Fyre festival" by the faithless and snarky, and sensationalized by the uninformed as being put on by the company behind Astroworld: Live Nation – the company that puts on nearly all major concerts in the United States. Perhaps it is simply difficult for the "misunderstood" demographic to which this festival caters to believe that it is possible to get what they want.
An updated site map for an expanded general admission (GA) area was posted on October 6th, much to the ire of the VIP section. It will be interesting to see how this all plays out.
"Ladies and gentleman, we are a band called Taking Back Sunday… and we hope all your dreams come true!" said Lazzara as their performance finished.
Follow Taking Back Sunday:
---
My Chemical Romance
"My Chemical Romance were undoubtedly the rock superstars of the 21st century." – Paul Travers, Kerrang's "10 Moments that Made My Chemical Romance Superstars"
Despite the grueling wait for the return of My Chemical Romance, who are now nearing the end of their reunion tour, the show at Tacoma Dome felt like it went through a time warp.
Sure, the band may have been stripped of costumes, make-up, and theatrics – given permission to be more of a normal rock band – but the magnitude of their performance spoke the prevailing truth that all of that is just fluff – the real power lies in the showmanship and musical expertise of the group. Gerard Way (lead vocalist), Mikey Way (bassist), and Ray Toro (lead guitarist, backup vocalist) especially radiate in their stage presence.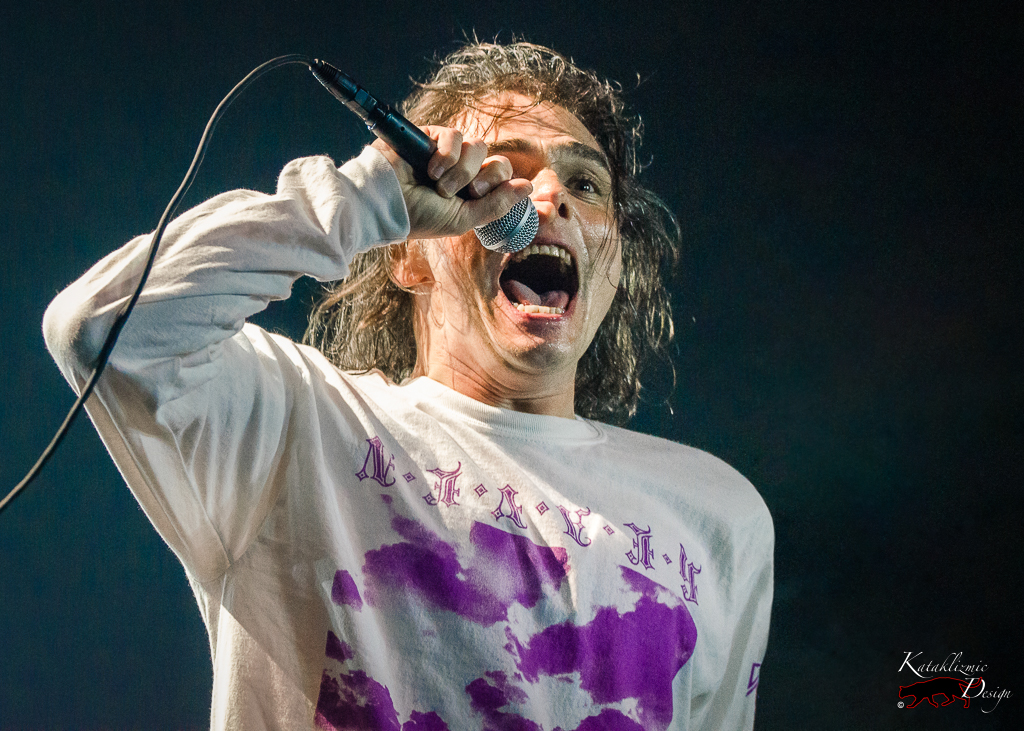 When they took the stage they launched into their newest single "The Foundations of Decay" (released May 12, 2022) – a track that beautifully combines the raw essence of their debut LP I Brought You My Bullets, You Brought Me Your Love with musical maturity that one might say channels Tool.
The stage setup included a backdrop and props of a decaying city. On this tour, MCR's setlists have varied wildly in comparison to most tours, which tend to stick to the same songs or change up just a couple of songs on most stops. However, the introductory song has remained the same throughout their reunion tour, and that works well – because one of the most exciting things a fan can experience after all of this time, on top of the ecstasy of seeing them live, is to kick it off with a fresh, explosive sound. If "The Foundations of Decay" is any indicator of what can be expected of a future studio album, there is no end to the anticipation.
Including the encore, My Chemical Romance performed 19 songs at Tacoma Dome. For anyone who discovered them when "I'm Not Okay (I Promise)" was released as a single, it was the perfect song to follow the first, flipping from the present to the start. This track of course comes from their second studio album, Three Cheers for Sweet Revenge, however many fans were not turned on to the Bullets album (fun fact: it was produced by Thursday vocalist Geoff Rickly) until after being introduced to this album.
Still more were blind to the magic of My Chem until after "Welcome to the Black Parade" was released. The music video for this track was awarded the title of MTV's "Greatest Music Video of the Century" in 2017. This achievement was deeply gratifying to a fanbase aware of how criminally underrated MCR once was, and every heap of praise this band has received since the announcement of their return continues to be sweetly satisfying.
The encore began with Gerard reading an excerpt from Interview with the Vampire with heavy distortion over his voice, and it consisted of the banger "Vampire Money", the classic "Vampires Will Never Hurt You", and closed with the solemn "Cancer".
Before starting the delightful "Ballroom Blitz"-esque intro of "Vampire Money", Gerard professed his and his wife's love for The Batman: "…Lyn-Z and I watched the new Batman. We had like a little weekend getaway, it was really fucking rad, and… we really fucking liked it. We LOVED it. We watched it two times in a row it was so fucking good! …It was that good…. THAT. FUCKING. GOOD! …and Robert is really, incredibly fuckin' handsome." (Video)
This is worth noting because Gerard Way is the creator and writer of The Umbrella Academy, a comic book series which was adapted into a Netflix series that broke numerous records in viewership. So if you have wavered at all on whether another adaptation of the Batman story is worth your time, this endorsement may tip the scales for you.
In an NME article, "My Chemical Romance defend 'Cancer' track", Gerard is quoted as saying, "It's not a poetic track… It's very direct, very brutal, but that's the way disease is. Obviously cancer is being used as a metaphor… But I also wanted the song to be directly about the disease, because it's something that the patient has gone through and it's a very powerful thing. For me it was almost like an attempt to write the darkest song ever, and I think we achieved that."

With regard to the closing song, on the walk toward the exit of the dome, a fan could be overheard saying, "…why did you end on this? Now I'm going to cry myself to sleep!"
Sprinkling in upbeat songs from Danger Days throughout the set list certainly contributed to a continuous buzz throughout the show. The only songs from the same album that were performed consecutively were "Famous Last Words" and "Welcome to the Black Parade" from The Black Parade – obviously fan favorites, as it seemed that every person in the 23,000-seat venue was singing along.
Mixing songs from their 4 studio albums created an excellent ebb and flow, and the inclusion of the "I'm Not Okay" b-side "Bury Me in Black" was also a treat. Unfortunately, Washington was not treated to a live experience of any of the songs from the Conventional Weapons compilation album of unreleased tracks. However, surrounding shows in Portland, OR (Oct. 2) and Oakland, CA (Oct. 5) included "Boy Division" and "The World is Ugly".
This weekend, My Chemical Romance is appearing in the truly incredible line-up of "Monster Energy Aftershock 2022" festival alongside the likes of Muse, Evanescence, Slipknot, Kiss, Bring Me The Horizon, Stone Temple Pilots, Rob Zombie, The Pretty Reckless, Halestorm, Ice Nine Kills, Judas Priest, The Struts, Motionless in White, and many more.
The last date of the "When We Were Young" festival, October 29th, will be the last show of the North American leg of MCR's reunion tour. Afterward, Mexico City will see them in mid-November. Finally, after touring since mid-May of this year, they will get a break until March 2023 when they are scheduled to perform 1 show in New Zealand and 6 more in Australia.
My Chem made the Cascadian crowd sweat that night, and you can bet money that the MCRmy (their dedicated fanbase) is insatiably hungry for more – they won't let go. May this not be considered the famous last tour of My Chemical Romance, but rather just the beginning of a new era with great longevity.
Photo Gallery
Photographer: Katherine Amy Vega
My Chemical Romance – Tacoma Dome 10-3-22

Photography © Katherine Amy Vega, Kataklizmic Design
All Rights Reserved.