Yesterday, the second Twitch Goes Emo musician streamer festival was held on the Twitch platform. In celebration of primarily early 2000's emo and pop punk music, the line-up included artists from all over the world: Kintsuku, SabySpark, Sayanoe (dropped out), TylerLevsMusic, GabiStreams, JordinLaine, CERIANmusic, JulienBelhumeur, Andrewcore, AnnaCarmela, ClosureClub, and JonLiMusic.
The first Twitch Goes Emo took place on December 5th, 2020 and featured many of the same artists, as well as MattWaldenAC and Annelle: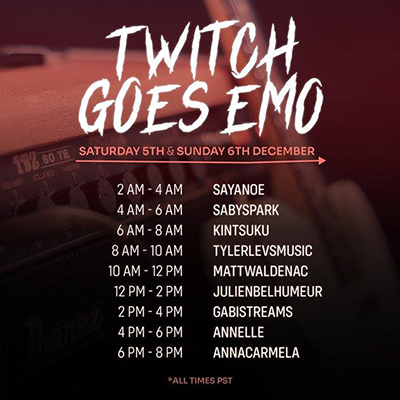 ---
1. Kintsuku
Ellie, who goes by the alias Kintsuku, is a musician based in Manchester, Northern England. She writes, produces and performs atmospheric / experimental pop, playing guitar, keys and vocals. Kisuku has been streaming on Twitch since December 2019. Hoping for a release later this year, she is currently writing her debut album.
Watch the Full Stream VOD Here
Clip
Bonus Clips:
Connect with Kintsuku
2. SabySpark
Saby is a singer-songwriter from Slovenia, "trying to spark some joy in the world", who has played the guitar for 10 years, ukulele for 3, and is slowly learning piano. By starting to stream last year, she is conquering shyness and self-consciousness, and following her deepest dreams.
Watch the Full Stream VOD Here
Clip
Bonus Clip:
"My Songs Know What You Did in the Dark (Light Em Up)" (Fall Out Boy cover)
Connect with SabySpark
3. Sayanoe
Budapest-based singer-songwriter Mimi – stage name Saya Noé (pronounced: sigh – ah – no – ay) – was unable to make the event (for reasons outside of her control). She plays the guitar and keyboard, and performs originals and covers, with acoustic, live production, and looping.
Connect with Sayanoe
4. TylerLevsMusic
Tyler Levs is a singer/songwriter from Maine USA. With a taste for multiple genres and a passion for music, he performs live loop tracks as well as unplugged. Tyler has streamed live on Twitch.tv since 2017, and has been featured on the Twitch front page for approximately 23,000 people. He has performed for various causes through Saving Music Live (a Twitch charity stream) as well as talent shows (The Austin Talent Show and "Gamers Got Talent" Luminosity gaming). Twitch helped enable his transition to full-time musicianship in February of 2019.
Watch the Full Stream VOD Here
Clip
Bonus Clips:
Connect with TylerLevsMusic
5. GabiStreams
Gabi Belle is from the East Coast of the US, and she has been streaming since February 2020. Not only does she produce her own music, sing, and play the keyboard and guitar, she also directs and edits her music videos. She was vocally trained for theatre, and she has experience playing the flute, trumpet, and saxophone. Gabistreams is also a gamer who loves Nintendo games – her favorite being The Legend of Zelda: Breath of the Wild.
Watch the Full Stream VOD Here
Clip
Bonus Clip:
"The Ballad of Mona Lisa" (Panic! at the Disco cover)
Connect with GabiStreams
6. JordinLaine
Singer-songwriter JordinLaine has been focusing heavily on writing music, creating content, and live streaming since 2018. Through the universal language of music, she has shared that she found the power to express herself in the most open and authentic form.
Watch the Full Stream VOD Here
(JordinLaine does not allow clips on her channel)
Connect with JordinLaine
7. CERIANmusic
Cerian is a singer-songwriter from London that plays harp, piano, and guitar. She plays a mixture of originals and covers,  switching it up between instruments. Cerian(a Welsh name, pronounced: Kerry-Anne) released her debut EP in April 2020. She has worked as a musician for many years with an impressive resume, singing backing vocals and playing harp for lots of incredible artists, like Radiohead, U2, Sam Smith, Imogen Heap, Thom Yorke, David Attenborough, Neneh Cherry, Charlotte Church and games like The Sims, Guitar Hero Live and Those Who Remain. Although she has been streaming for a while on other platforms, she is new to Twitch.
Watch the Full Stream VOD Here
Clip
Bonus Clip:
"Hear You Me" (Jimmy Eat World cover)
Connect with CERIANmusic
8. JulienBelhumeur
Hailing from Québec, Canada, Julien Belhumeur is a singer, musician, and loop artist that plays both originals and covers. With a minimalist bio, he lets his prowess speak for itself!
Watch the Full Stream VOD Here
Clip
Bonus Clips:
Connect with JulienBelhumeur
9. Andrewcore
Andrew has, in his humble words, 'been faking his way through playing drums for about 20 years' – beginning with learning completely by ear, and focusing on learning more basic principles and improving overall now that he's streaming. He is a member of the band Fable Cry, which includes another popular music streamer, joplaysviolin. He began touring in 2006 and has hit the road and recorded with a number of metal, rock and hip hop artists.
Watch the Full Stream VOD Here
(andrewcore does not allow clips on his channel)
Connect with Andrewcore
10. AnnaCarmela
Anna Carmela is a self-described "hyper-active singer/songwriter" and music student with musical theatre training as a youth in her background. She has toured in the US and Canada. A bit of an autodidact, Carmela is self-taught on guitar, bass, piano, ukulele, kazoo, and mouth trumpet. She certainly does have energy to be contended with, and with a voice well-suited for it, loves performing blues, rock, and soul music.
Watch the Full Stream VOD Here
Clip
Bonus Clip:
"Boulevard of Broken Dreams" (Green Day cover)
Connect with AnnaCarmela
11. ClosureClub
Full-time artist, songwriter, and musician Heathy goes by ClosureClub, and is referred to by many more names (ex. j, lostcause, jarebear, red, clo) as he has streamed across multiple platforms for several years. His experience shows through his performance, and his music is "inspired by 80's tones, dreamy lo-fi aesthetics, and melodic intervals drawn from the moody years of never escaping 'the punk phase'."
Watch the Full Stream VOD Here
Clip
Bonus Clip:
"The Middle" (Jimmy Eat World cover)
Connect with ClosureClub
12. JonLiMusic
Jon Li, arguably the headliner – if not co-headliner – of Twitch Goes Emo 2021, closed out the night with a respectable 4 hour and 40 minute stream, despite having performed a bachelor party gig prior. The expanse of his catalogue is impressive, to say the least, and what he doesn't know, he can offer quite a decent Live Learn performance.
Li started performing by ear in high school after many years of studying and performing classical piano. While in the process of earning his math and music degrees in college, he was introduced to the world of Dueling Pianos that set him on a career path that led him to travel the world and play with hundreds of talented musicians. Li released Finding February in 2010. In 2020, COVID-19 began his live streaming journey on Facebook, followed by Twitch.
Watch the Full Stream VOD Here
Clip
Bonus Clips:
Connect with JonLiMusic / Rock It Man Entertainment