TEMPE, Ariz. — Marquee Theatre was heated up by Phoenix's electric performance on June 13th. Just four days earlier, Phoenix released their sixth studio album Ti Amo
and played a few songs from it. It was an unusually cool night (well, as cool as Arizona in June can get), and everyone was lining up to enter into the venue. The atmosphere was filled with excitement as the Marquee was quickly filling up, and looked to be a nearly sold out show.
The venue seemed to be filled with mostly ages 21 and over, as many people had a drink in their hand as they watched the opening act, The Lemon Twigs, perform. The Lemon Twigs owned the stage with their vintage style and sound. Brothers Michael (Lead Vocalist/Guitarist) and Brian (Drummer/Backing Vocalist) D'Addario front the band; with Megan Zeankowski on bass, and Danny Ayala on keyboards/backing vocals. Michael D'Addario commanded the stage with his flare pants and teal shaggy hair. He did numerous high kicks into the air and had a reminiscent look and presence of Mick Jagger and Keith Richards combined. They played a song "Bay Baby", which gave a 70s feel-good heartbreak vibe. The Lemon Twigs are about to take the music industry by storm, so make sure to check them out!
After a long anticipated wait, Phoenix walked onto stage and the crowd roared with excitement. They started with "Ti Amo", the title-track of their newly released album Ti Amo. Next came "Lasso" which was met by a pleased crowd that cheered after hearing the first few seconds of the song.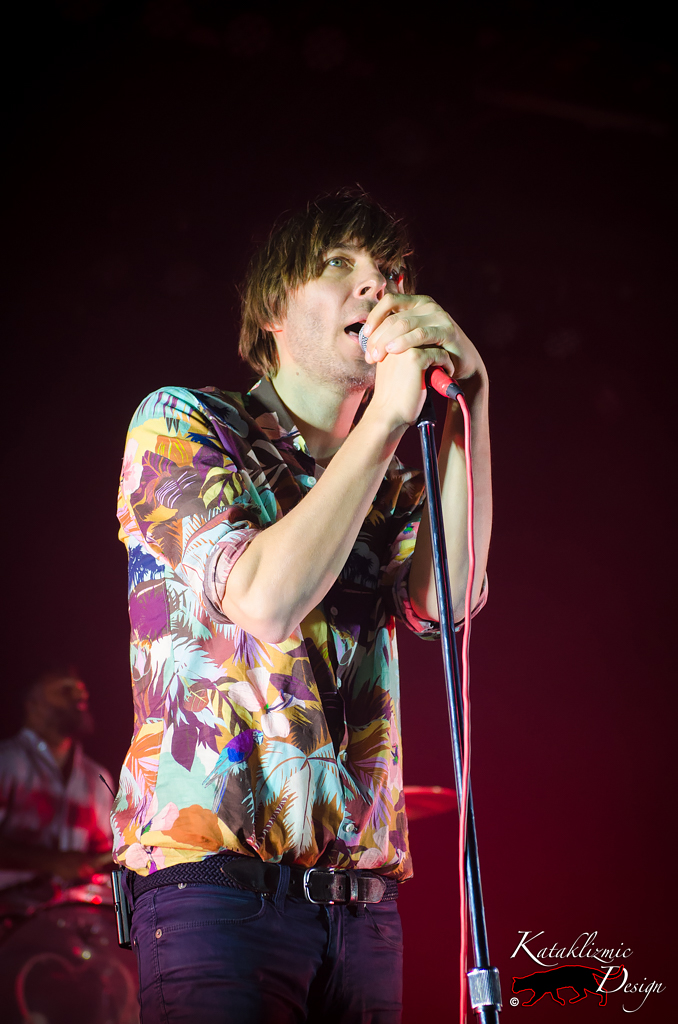 Phoenix played "Entertainment", and were immersed in an incredible light show during parts of the song. White lights created a curtain cover and our concert photographer, Katherine Amy Vega, described it as being like a holographic effect. The lighting really complemented the electric rock sound. Strobe lights of white, red, blue and yellow filled their set. During some songs, there was a rainbow lighting effect, which may have hinted to Phoenix's support of the LGBTQ community during Pride Month.
Phoenix seemed to have one of those awe-struck moments as the band paused after playing "Lisztomania", and smiled at the crowd. During most of the set, balloons with a heart and "Ti Amo" printed on floated through the air amongst the crowd. The whole band put on an energized performance and played their part in creating a music loving atmosphere.
One of the most amazing intimate moments of the show was during the encore when Thomas Mars (Lead Vocalist), climbed off the stage and came to the barricade while singing a stripped-down version of "Countdown" to the crowd as guitarist Christian Mazzalai played on stage.
Phoenix played many fan favorites including "1901" and "Fior Di Latte". The band took over the stage and created an exhilarating atmosphere. Constant dancing, singing along, cheering and pure happiness filled the venue. It was a concert where you couldn't help but feel joy because the band projected their happiness and love for music onto the crowd.
To end the show, in the BEST way, Thomas Mars came off stage and joined the crowd in the final song "Ti Amo Di Piu". He walked through the full crowd with his microphone connected to a glowing red cable that the crowd held up; and he said "Thank you!" over and over again, showing his gratitude to the loving fans. At one point he seemed to be hoisted on someone's shoulders, possibly a fan, and said "Thank you!" again; followed by crowdsurfing back up to the stage . It was truly a moment no one will forget!
Phoenix put on an amazing performance that rocked the Marquee. Fans will definitely be awaiting the next time they come to Arizona!
Photo Album
Photographer: Katherine Amy Vega
Phoenix (The Band) – Marquee Theatre 6-13-17

Photography © Katherine Amy Vega, Kataklizmic Design
All Rights Reserved.