Tempe, AZ — In late 2005, Thrice released Vheissu, their fourth studio album. It was quickly declared as their best album to date, and arguably still is. The experimental and the spiritual met, and from that marriage came an album that resonates just as much today as it did when it hit the streets in late fall 15 years ago. As the anniversary approached, a tour that would celebrate this iconic album was announced. Joining Thrice on this tour was mewithoutYou, Drug Church, and Holy Fawn. These four bands stopped by the Marquee Theatre to celebrate the impressive milestone with fans.
HOLY FAWN
Flickering lights flanked the stage for Holy Fawn, with lightboxes at the edge displaying their name. There was a buzz in the air, unusual for most openers, but not for Holy Fawn on this night. They are from Phoenix, playing their first hometown show in over a year. With plenty of family and friends in attendance, Holy Fawn took the stage. Consisting of lead vocalist and guitarist Ryan Osterman, drummer Austin Reinholz, bassist Alexander Rieth and guitarist Evan Phelps, Holy Fawn layers music and vocals in a way that turns the sound into a relaxing, ethereal experience.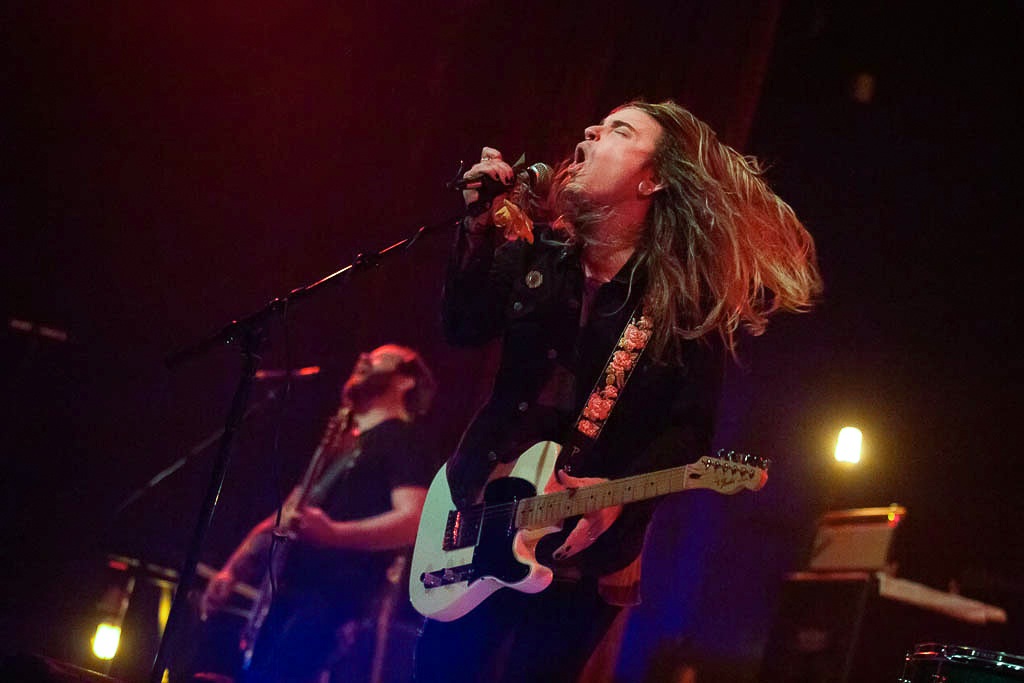 That is, of course, until Osterman screams the last few lines of "Dark Stone," as well as in parts of other songs. The first time it happens, it may be jarring to the casual observer, however the style can be appreciated once the screams are expected. The four are talented, enjoyable, and their set was excellent.
Drug Church
Following in the line-up, Drug Church consists of vocalist Patrick Kindlon, guitarists Nick Cogan and Cory Galusha, bassist Pat Wynne, and backed by Chris Villeneuve on the drums. A hardcore punk band, calling the upcoming set "a change of pace" would be a bit like trying to compare a light snowfall in Flagstaff to an avalanche in the Rockies.
Kindlon has an intensity that both fascinates and terrifies, holding his microphone near his face or head one moment, then screaming into it the next. He stares into the crowd between lines, looking as if he's trying to find someone to throw down with. Unfortunately, the audience was not at the show for hardcore punk, and as such, the energy of the crowd did not match the intensity that poured from the stage. Kindlon acted as a hype man for the other 3 bands, urging the slightly apathetic crowd to at least cheer for them. He succeeded, then asked the crowd to at least bob their heads to the remaining songs. Drug Church will be returning to Phoenix on May 19th, opening for Against Me! We recommend going to see them if you want to throw down with an explosive band.
mewithoutYou
mewithoutYou announced on Instagram late last year that 2020 would be their last year touring. After this tour wraps, they plan on heading out on two more tours or so before the end comes. This is bittersweet news to fans; it is never easy to say goodbye to a favorite band, yet this appears to be an amicable breakup – a best case scenario. mewithoutYou hails from Philadelphia – something Kindlon joked he would not hold again them – and they are made up of brothers Aaron (Vocals) and Mike Weiss (Guitar), Brandon Beaver (Guitar), Greg Jehanian (Bass), and Rick Mazzotta (Drums).
Most musicians feel the music, but it can be argued that Aaron Weiss feels it to a larger degree than most. He never stopped moving around the stage, at times getting down on his knees and wiping the sweat from his face with a towel. The band produces an experimental sound that is great on the album, and is incredible in concert. Follow mewithoutYou on social media to find out the dates of their last tour.
Thrice
Thrice closed the night out with an awe-inspiring set. Entering the stage to thunderous applause and cheers, Thrice jumped right into "Image of the Invisible." Within seconds, it was clear how much this band and album mean to the fans Performing the entire album in order offered unique insight as to which songs from the album are more beloved — the crowd sang along to each and every song, but "Like Moths to Flame" and "Of Dust and Nations" garnered a larger response than other songs.
Throughout the years the lineup has stayed the same: Dustin Kensrue on vocals and guitar, Teppei Teranishi on the guitar, and brothers Ed and Riley Breckenridge on the bass and drums respectively. In 2012 they took a break, returning in 2015 to the delight of their fans. They have continued to refine their sound, and they are a beloved group with a diehard fan base. Kensrue showed his appreciation to the crowd throughout the night, thanking the crowd multiple times when they cheered at the end of the songs.
The hour and a half set was a beautifully crafted meeting of mutual appreciation, with the soaring voice of Kensrue backed by the powerful instrumentals of the band. The lighting gave the room an atmosphere that only amplified the near spiritual experience that Thrice created that night. Even at an hour and a half, the crowd wanted, hoped for more. It was a fitting celebration for an iconic album, a celebration that wrapped up on February 29th in Los Angeles.

Photo Galleries
Photography: Kimberly Carrillo
Thrice, mewithoutYou, Drug Church, & Holy Fawn – Marquee Theatre 2-24-20

Photography © Kimberly Carrillo
All Rights Reserved