Mesa, AZ — Hailing from Denmark with a sound that blends punk and rockabilly into something wholly unique, Horrorpops steadily built a following over the course of their three albums in the mid-2000's (2004's Hell Yeah!, 2005's Bring It On, and 2008's Kiss Kiss Kill Kill). Just as they were reaching their apex, the band went into a period of inactivity. They released no new albums, and aside from a few shows here and there, they didn't even play live that often. While the band may have gone on a brief hiatus, it didn't stop their fan base from growing. With the announcement of a new tour, shows instantly began to sell out, and one of those sold out shows was Nile Theatre ("The Nile"). Kicking off the previous night in San Diego, The Quakes and Franks & Deans will accompany the Horrorpops for the entirety of the 13-date tour.
Franks & Deans
"We're Franks & Deans, and we're here to fuck up your grandmother's favorite music!" Wearing matching tuxedo t-shirts and playing matching sea-foam-colored instruments for a set comprised of punk covers of old standards (okay, and the theme song to the 1967 Spider-Man cartoon), Las Vegas' Franks & Deans opened the night. Comprised of bassist Robert DeTie, guitarists Hoss and Sampson, drummer Cam Callahan, and burlesque dancer and hula-hoopist Nickole Muse, they were an immediate shot of adrenaline the moment they came through the door.
Their sound – two parts punk and one part bar band – started the show off with the exact right kind of fun party music atmosphere you'd want on such a night. While their set may have been built around songs from the various classic Vegas performers. "This next song is by my favorite member of the Rat Pack: Mike Ness!" The Social Distortion's frontman's misattribution as a member of Sinatra's Rat Pack was a running joke throughout their set, with other Rat Pack "members" including The Reverend Horton Heat and Dead Kennedys' Jello Biafra. As they mentioned during the closing of their set, they have a regular Wednesday night Weenie Roast residency at Double-Down Saloon in Vegas. For any AZ residents who find themselves visiting Sin City mid-week, it's a worthwhile stop.
The Quakes
Fronted by founding member and guitarist Paul Roman and backed by slap bassist Wes Hinshaw, and drummer Juan Carlos, Arizona's own The Quakes played second. Thirty-year veterans, the band's sound can best be described as neo-rockabilly. Roman played with the furious intensity of Johnny Ramone from the Ramones classic-era. If Roman's guitar is punk-rock fury, then the rhythm section of Hinshaw and Carlos served as the perfect anchor, both keeping pace and holding the track together.
From their blistering take on the Stone's "Paint It Black" to open, their 13-song, 30-minute set was a musical buzzsaw. "I Miss You" by the band's 2005 album Psyops drew a huge crowd reaction. The Quakes have a three-prong attack and seem to intuitively feed off of each when they're on stage.
Horrorpops
With the stage set up with white sheets and assorted decorative skulls, you could feel the building excitement for the Horrorpops. With a legitimate max capacity crowd of long-time fans, many of whom were seeing the band for the first time, anticipation built to a fever pitch just as the lights went black. The reaction from the audience to darkness alone is the kind of pop some bands would kill to have. Henrik Stendahl was out first, taking his place behind the drums. He was quickly followed by guitarist Kim Nekroman, looking cool as ever. Arriving last, you realize immediately exactly what kind of icon Patricia Day has become, as she was greeted like psychobilly royalty.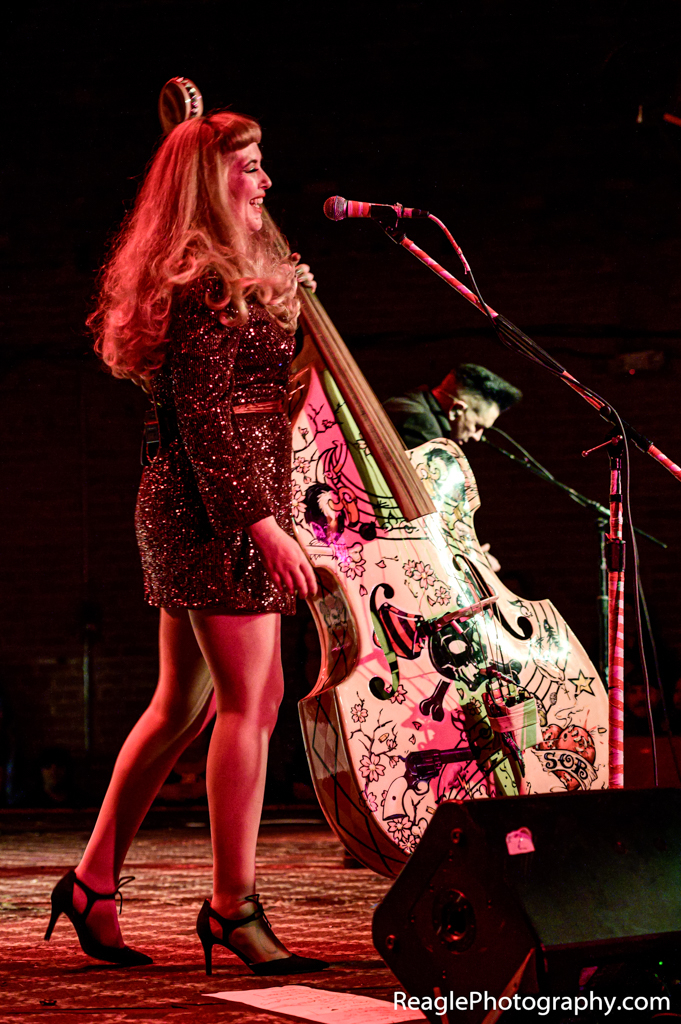 Picking up her massive stand-up bass, adorned with buzzards and a black skull and crossbones, and went right into "Julia" off of Hell Yeah! One crowd favorite was followed by two more: "Thelma and Louise" from Kiss Kiss Kill Kill and "Kool Flattop" from their debut. The opening trio hit hard, and by the time the band paused and Patricia Day addressed the crowd for the first time, you could feel the crowd needing to take a breather.
"I can only think of one thing… okay two things," Patricia told the crowd. "1. Why the hell did we stay away for so long? The second is that the greatest show we ever played was right here in Arizona! Anyway, it's been too long!" Too long it may have been, but you'd never know it had been that long. Even with several years off from regular touring, the band showed no sign of rust, on just their second night of the tour. From the opening chords of "Julia," they sounded just as tight as ever.
The band was on a tight schedule because The Nile had to close at midnight, and their set didn't start until 10:45, which left them only 75 minutes. The time constraints didn't detract from their set but instead gave it a blazing intensity. Somewhat ironically during "Hit 'N' Run" from 2005's Bring It On!, Day casually dodged a beer can launched at the stage, with her nonchalant dodging being noticed and vocally appreciated by the crowd. Day's stage presence combines punk-rock bravado with a kind of effortless grace. She took a brief moment to give her own appreciation: "Thank you so much for singing loud and oh-so-fucking proudly!"
While Horrorpops has a particular aesthetic that combines elements of goth with classic rockabilly, with a sound that incorporates both in a punk-rock blender, what often gets lost is that their song-writing revisits so many classic themes. Day and Nekroman are married, and many of their songs, as noted by Day, are love songs because even psychobilly punk rockers need love.
If their songs were about love, the show – and presumably the entire tour – is a love song to performing live. With Paul Roman from the Quakes joining them on guitar and Nekroman taking over bass duties from Day, they launched into crowd favorite "Psycho Bitches Outta Hell," as they were also joined on stage by Kelly (their merch girl) who did a synchronized dance routine with Day.
At this point, time was starting to run out on the night, so the band improvised. "This is the time in the set when we would normally yell 'Goodnight!' and leave the stage and make you clap for us so we can come back out and play more songs that we already planned on playing, but we're on a tight curfew tonight…" The lights were briefly turned out, as the band stayed on stage. The crowd relished the chance to play along with this joke, chanting "One more song!' before the lights were promptly turned back on. "Alright, we will!" They closed out the night with "Walk Like a Zombie" and "Miss Take." "We got time for one more song, and then it's curfew!"
They closed their set with "Where I Wander," took a bow, and exited the stage almost perfectly at midnight. The set may have been a tight 75 minutes, but they gave the crowd everything they had. And their adoring fans, so many who have waited years to finally see them live, gave it right back. Though Horrorpops may be from Denmark, they have a clear love for Phoenix. Hopefully it won't be another ten years before they return!
Photo Galleries
Photographer: Rodrigo Izquierdo
Horrorpops, The Quakes, and Franks & Deans – Nile Theater 2-1-20

Photography © Reagle Photography
All Rights Reserved