PHOENIX — Jonny Hawkins' vocal acrobatics were absolutely mesmerizing. It's hard to believe the Nothing More frontman wasn't even singing at age 21 as he sat just beyond the limelight as the band's drummer. His voice evolved from gravel enriched screams as they opened with "Turn It Up", to technically precise softness in the opening verse of "Go To War". And, oh yes, he made his presence known early in the show as he rose up to ride The Scorpion Tail that not only looks dangerous but also contributes to the sound as Hawkins jammed the throttles that processed the guitar like a whammy bar.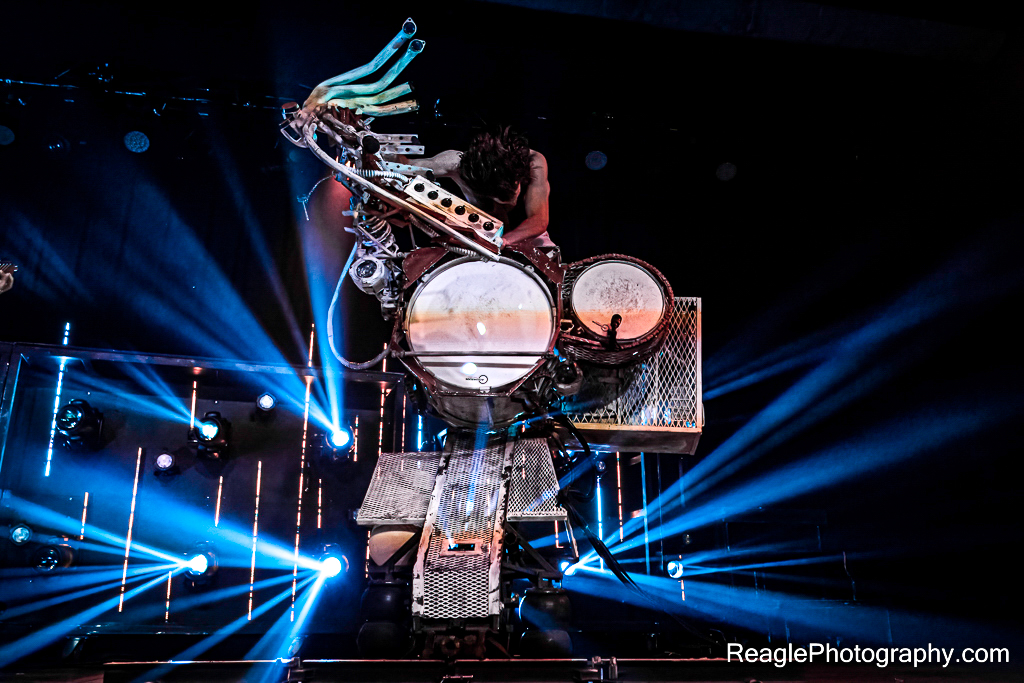 The audience were the loyal followers in response to the shouts in "Christ Copyright" and the musicians were Hawkins' disciples like in the last supper painting. Mark Vollelunga (guitar, vocals), Daniel Oliver (bass, vocals), and Ben Anderson (drums) were all superstars in their own right, but the focus seemed to always come back to center stage where the charismatic singer, with the muscle tone of an MMA fighter, held court.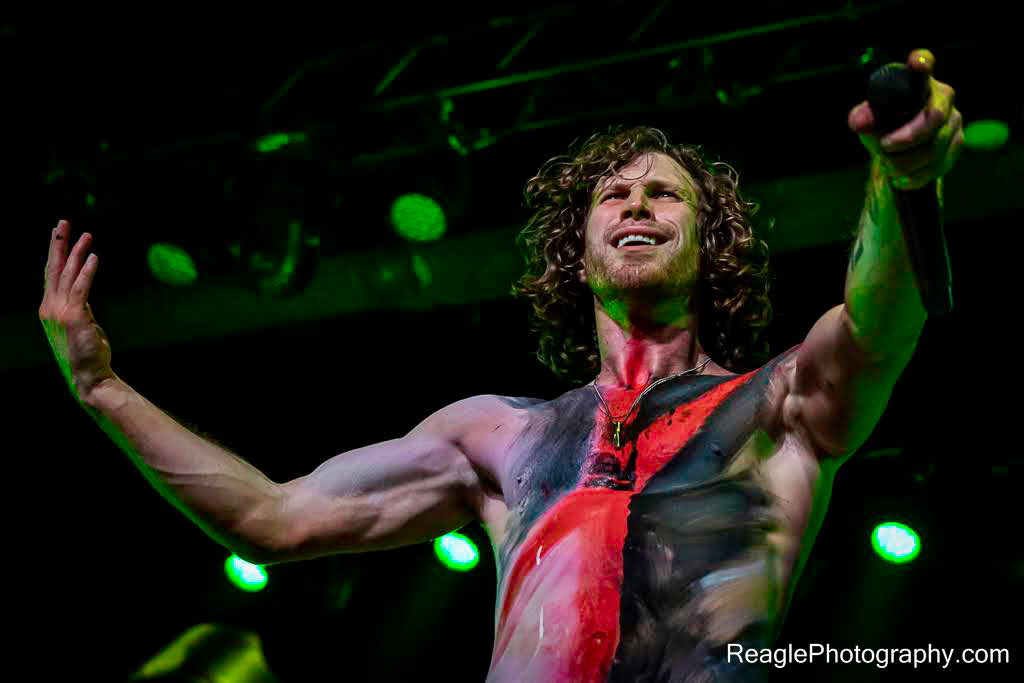 For this show, Hawkins' ever-morphing body paint design for the evening resembled a red sash on a field of black that faded out asymmetrically across his torso. What it symbolized remained a mystery along with the question of how the paint stayed on all night through the sweat and stage antics.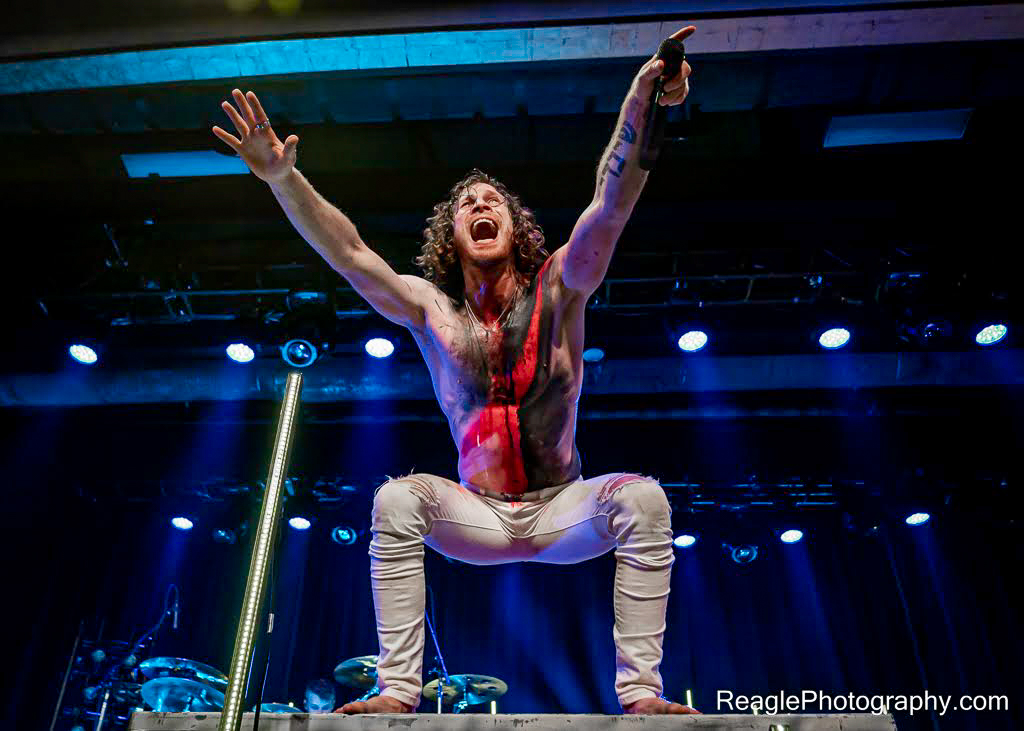 The 13-song setlist included a balanced mix of selections from 2017's Grammy nominated The Stories We Tell Ourselves and the previous release from 2013, simply entitled Nothing More. Fans were treated to two new songs from 2022, the opener "Turn It Up Like (Stand In Fire)" and the brilliant lyrical voyage of "Tired of Winning" with an embedded speech from Alan Watts on the eternal now.
Phoenix was one of the last stops on this 27-gig tour before they head back to San Antonio where their origin story began and there was no sign of fatigue or phoned-in performances. The energy was at full tilt all night long. Even when the heavy sounds took a respite, heavy emotional lyrics filled in on "Fade In / Fade Out", the perfect soundtrack for Father's Day weekend.
The sound was a little 'boomy' in the venue, but you could still tell that the orchestration was stellar. There were tracks that they played along to, but they seemed incidental to provide storyboarding for intros and to provide expansive soundscapes. Vollelunga's contribution to the sound of Nothing More is a key to their originality. His showmanship was on full display, but not as a showy shredder, more as a song smith with attitude sporting a drop-tuned Aristide guitar through Marshall cabinets.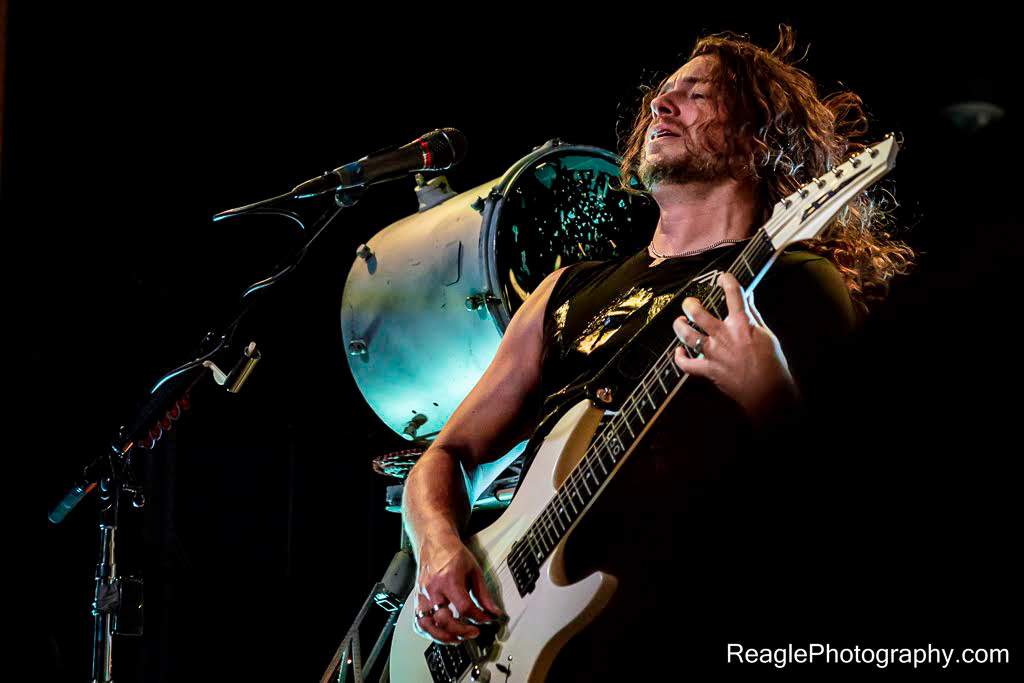 As the lights went down for the final song, a techno ambiance resonated as if from the rafters above. A haunting melody was being voiced with vocoder harmonies and the fans came alive knowing the lyrics to "This Is The Time". The momentum was building as recollections of Hawkins carrying the stone in the music video came to mind and then the room exploded with excitement as the band kicked into high gear. Hands raised, the minions were jumping in time and responding with shouts when the mic was aimed their way. Eventually Hawkins mounted The Scorpion Tail as a bookend to the show and left the crowd wanting more when the house lights capped the performance.
Eva Under Fire
Labelmates at Better Noise Records, Eva Under Fire, opened up the night with a little sliver of the front of the stage. They brought the classic sound and lineup that brought arena rock to the forefront: dueling guitars (Rob Ryberg and Chris Slapnik) mixed with a thumping bass (Edward Joseph) and pounding drums (Corey Newsom) in support of a charismatic singer.
Eva (aka Amanda Lyberg) delivered the vocal goods with perfect intonation and high energy from start to finish. Their set included original grooves that felt instantly familiar.
It will be interesting to see where their trajectory leads them with their formulaic songwriting that sounds like mainstream rock hits. This tour is giving them a platform to show the world that they are more than a bar band. Standout songs were "Heroin(e)" that Eva wrote about her father's drug overdose and their latest release, "Unstoppable", that has all the swagger of a Carrie Underwood hit in a metal multiverse.
Eva, with her blue mane, led the audience in synchronous bouncing to the infectious beat of "Blow" that they recorded with Spencer Charnas of Ice Nine Kills. They wrapped their 8-song stint on stage with a cover of Journey's "Separate Ways"…BTW, their recording and video of this song is good, but it was fantastic live, sans keyboards and vocal harmonies. The band treated fans to a meet-and-greet after the show at the merch table.
Atreyu
Next up, Atreyu visited the valley again after the "day gig" in April at UFest. It was cool to see the lights in the speaker stacks this time that couldn't be seen in daylight at Ak-Chin Pavilion. Story has it that their bus had caught fire earlier in the day and although nobody was injured, they did lose some material possessions up in smoke. That sure didn't appear to dampen their spirits during the show. From the first note, the audience was in the palms of their hands.
Atreyu balances a heavy in-your-face metal aesthetic with a fun party atmosphere. Brandon Saller, another former drummer turned lead vocalist, is a class act entertainer and when he asked us to raise our fists, we obeyed. At one point he came off stage to mingle with fans and sing on top of the bar.
When asked, many of the attendees indicated that they were first timers, but when the catchy chorus rang out it seemed like everybody was a longtime fan as they screamed along with the lyrics. Speaking of screaming, Atreyu has another vocal secret weapon on the band with bassist Marc "Porter" McKnight who has mastered the art of unclean vocals! Long hair is typical in heavy metal, but McKnight's long hair sprouts from his chin instead of his bald head and it suits him well.
There was a scattering of harmony vocals throughout the set, but during a break in the song "Save Us", Atreyu again raised the bar with some impressive three-part vocal harmonies, and then guitarists Dan Jacobs and Travis Miguel carried forth the torch ignited by Hall of Fame inductees Judas Priest with harmony guitar solos too.
It is difficult to define the musical style of Atreyu as they weave through fast heavy hitters like opener "Baptize" (the title track of their latest album release), to the anthemic "Warrior" that trudges forward, and then to the fun shuffle of the song "Falling Down" from 2008's Lead Sails Paper Anchor.
Before ending the night, Saller had a Freddie Mercury "Ay-oh" moment with the crowd that started with simple melodies and ended up bringing smiles to faces as he sang Whitney Houston's "I Wanna Dance With Somebody" and Salt-N-Peppa's "Push It".
There's nothing better than a little cowbell to end a great set and Atreyu pulled another fun one from the archive with "Blow" that originally featured Josh Todd (Buckcherry). Saller had some sentimental last words: "We are more than just a band, we're a family." And with that we were welcomed into the family as they took their last bows.
Photo Galleries
Photographer: Rodrigo Izquierdo
View Separately:
Nothing More | Atreyu | Eva Under Fire
Nothing More, Atreyu, & Eva Under Fire – The Van Buren 6-16-22

Photography © Reagle Photography
All Rights Reserved
Setlists
Nothing More Setlist – Phoenix
Turn It Up Like (Stand In Fire)
Let 'Em Burn
Christ Copyright
Mr. MTV
Do You Really Want It
Tunnels
Jenny
Don't Stop
Go To War
I'll Be OK
Tired Of Winning
Fadein/Fadeout
This Is The Time (Ballast)
Atreyu Setlist – Phoenix
Strange Powers of Prophecy
Baptize
Becoming the Bull
Right Side of the Bed
The Time Is Now
Ex's and Oh's
Save Us
Falling Down
Battle Drums
Warrior
I Wanna Dance With Somebody (Snippet)
Blow
Eva Under Fire Setlist – Phoenix
Comatose
Blow
Unstoppable
Heroin(e)
Another Shot
The Strong
Coming 4 Blood
Separate Ways