PHOENIX— Valley local and current lead singer for Warrant, Robert Mason, performed at Cactus Jack's Bar and Grill Friday night in Ahwatukee. What is special about this show is the intimate setting and interaction with the artist that is so rare and delightful, you never forget it. Mason recruited metal cover band Drop D from Tucson, Arizona to share the stage both April 15th at Cactus Jack's, and again April 16th at Encore in Tucson for a show benefiting Women Warriors, a non-profit group supporting female veterans.
Mason on keyboards and lead guitarist for Drop D, Thomas Bach, kicked off a brief set with an incredible duet of Bob Seger's song "Turn the Page". Mason proved quickly why he has no problem heading such bands as Warrant, Lynch Mob, Big Cock Band, and even vocal support for Ozzy Osbourne. His incredible vocal range with a touch of grit would be a great fit for any band. Next up was Lynyrd Skynyrd's "Simple Man". Mason wasn't shy about using his phone as a teleprompter for the lyrics, saying, "Skynyrd used one at bike week too," with a grin.
Mason played a solo guitar and vocal version of Ozzy Osbourne's "Mama I'm Coming Home" after sharing a story about the call from Sharon Osbourne that led to him touring on Ozzy's 1995-96 Ozmosis Tour. This led into Mötley Crüe's "Home Sweet Home", and ended the first set.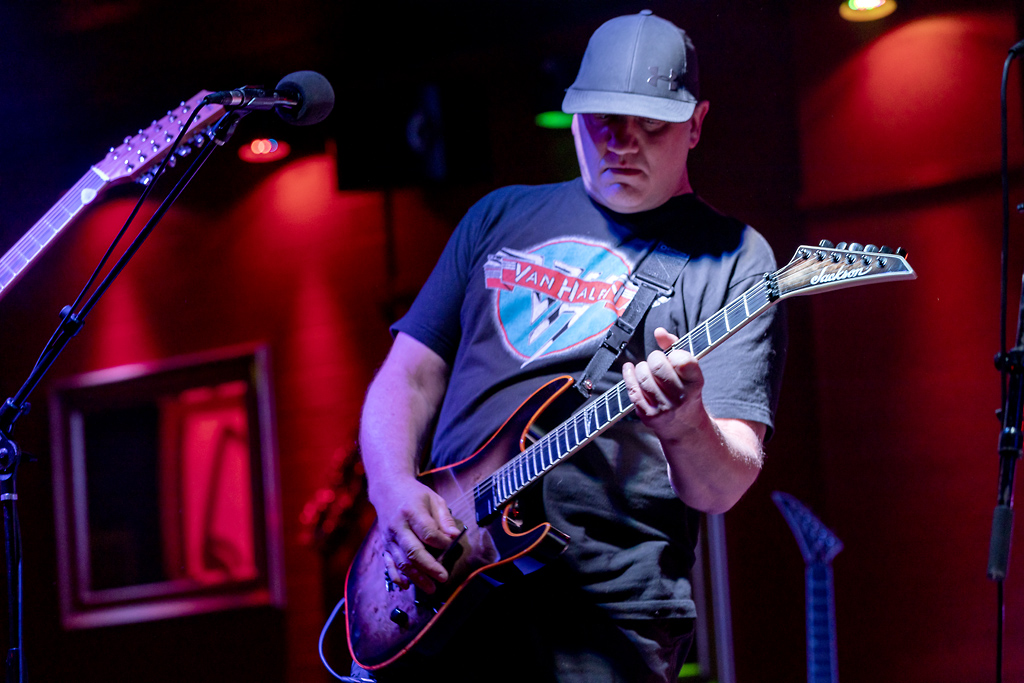 Drop D's Facebook page cites the band as "Tucson's hard and heavy cover band". There is not much information online about the band, but they are a fun foursome with lots of energy and a nice variety of songs in their set. They are definitely worth a watch when they come back to the valley. Members include previously mentioned Thomas Bach on lead guitar, KJ Padilla on vocals and rhythm guitar, and Corey Candray on bass. Drummer Bob Allen could not make it, but in his stead Ando Miller literally "lit up" the stage with his color-change drum kit.
An audio clip of "We Are the Champions" by Queen was the intro for the band whose set began with The Outfield's "Your Love". Padilla quipped they would play some more "songs older than I am" before covering Cinderella's "Somebody Save Me" and Queensryche's "Empire". The "sound man Tommy" for Cactus Jack's was invited up on stage and given a set of drumsticks to help play cymbals on Candlebox's "You". Van Halen's "Unchained", Skid Row's "Youth Gone Wild" and Poison's "Talk Dirty to Me" set the tone for the next set.
The final ten songs included both Drop D's full band and Mason himself on vocals. A great set it was, considering the band claims to have had "no practice" prior to the pairing. Bach jokes that Mason was "just tolerating us", but Mason chose this band to play these two shows with for a reason: talent, and lots of it. From Deep Purple's "Highway Star" to Mötley Crüe's "Kickstart My Heart", Mason impressed again with his incredible talent behind the microphone. He then covered Dokken's "It's Not Love", then stopped the show. His request? That the audience "engage in this moment" and put away cell phones, get out on the floor and dance.
Mason gave a toast to the audience in their honor, and thanked everyone for their support throughout his extensive career, then encouraged the crowd to sing along with Warrant's beautiful ballad "Heaven". He said he was grateful to be able to perform such amazing songs written by such amazing writers over the years. Wrapping up the set were the highly anticipated "Uncle Tom's Cabin" and "Cherry Pie", both big hits for his current band Warrant. Mason joined the crowd at the end of the show for photos and autographs, which thrilled the fans and Mason alike.
Robert Mason, 57, has had an extensive career as a vocalist. He joined glam-metal band Warrant in 2008 and remains their lead singer present day. George Lynch's Lynch Mob Wikipedia page shows his years active as 1991-1994, 2003-2006, and 2018. Robert says he moved to Arizona at the behest of George Lynch back when Chandler and Gilbert were "pig farms" that were turned into housing developments. His local "sleaze" band, Big Cock, wasn't mentioned out loud by name because the band name "upsets my mom". He appeared on 3 of their albums as lead vocalist: 2005's Year of the Cock, 2006's Big Cock and 2008's Motherload albums, according to Heavy Metal Wiki's page on Mason.
With endless stories about rock-and-roll life, Mason's show was full of witticisms and talent, mixing music and tales of the road and his extensive career. He even encouraged a heckler who shouted out "Uncle Tom's Cabin" after every song, assuring him he would get to that in the last set. We learned about tour life, Budokan, his friends and not-so-friendly acquaintances in the music business. We learned what it was like being a "hired gun" in the industry too. It was like visiting an incredibly talented old friend to share stories and a night of timeless music.
Photo Gallery
Photographer: Mark Greenawalt
Robert Mason & Drop D – Cactus Jack's 4-15-22

Photography © Mark Greenawalt.
All Rights Reserved