PHOENIX — Tori Amos' show at Orpheum Theater on her "Ocean to Ocean Tour", with support from Companion, was a sold out event. In this grand structure of a venue, a ceiling painted like the sky and lit with starlight, the audience seemed to recognize we were in the presence of herstory, and everything was absolutely glowing.
Amos is an institution. Amos has never been the pop princess, the sexy body image icon. She is a voice. She's a siren, she's a chanteuse—she's been the one reminding us since the 90's that a voice in itself is powerful. More than Pride month, more than the LGBTQIA+ crowd – a lot of patchouli, if you know what I mean – this night was about storytelling, and the tools a woman can use to tell a full story: a voice, a piano.
Companion
The opener was a duo called Companion, composed of identical twins Sophia and Jo Babb. These sisters were soft-spoken, funny. Denim-clad from Oklahoma City, they emphasized how grateful they were opening for Tori Amos and that this was their first tour. The pair were charming, and, as my fellow photojournalist comments, had great "candor" with their audience. I'd characterize their sound as slow, melodic, and sleepy—bedtime music—though we, the audience, learned quite a bit about their lives in the short opening act. While I'd be tempted to say Companion held us in the palms of their hands, maybe we just felt held.
Jo offered a "Sapphic love song about longing" and then Sophia talked of fate and meeting her husband. Later, they told the crowd about losing their father at the age of 13 and sang a song about grief, which they described as the "Final boss we had to kill to get to the next stage." Sophia relates that she wrote this for their mom.
Above all, Companion supplied great storytelling; their final song "Labyrinth" was about things getting better. The opening set was sleepy and slow, but in the way of great storytelling, was in no rush, like we have our whole lives to tell it. On Companion's Instagram they said they write "songs to feel to" and this is mostly accurate. Sometimes we have to slow down to feel, and the duo raised immaculate harmonies in the way of twin lore.
Tori Amos
Amos appeared amid a swirling red background and an eager crowd standing through the opening two songs. She opened with "Juárez" from 1999's To Venus and Back. At the song's fade, the red-swirling background faded purple, then pink, into her second song: "Bouncing Off Clouds."
Amos has mastered the power stance, like her thigh width is directly related to the intensity. This is beyond manspreading; she positively writhes at the altar of the Bösendorfer (her longtime piano). At times bent over her piano, she almost appeared crone-like, though we will never say this of Tori, but it is undeniable this woman was casting a spell.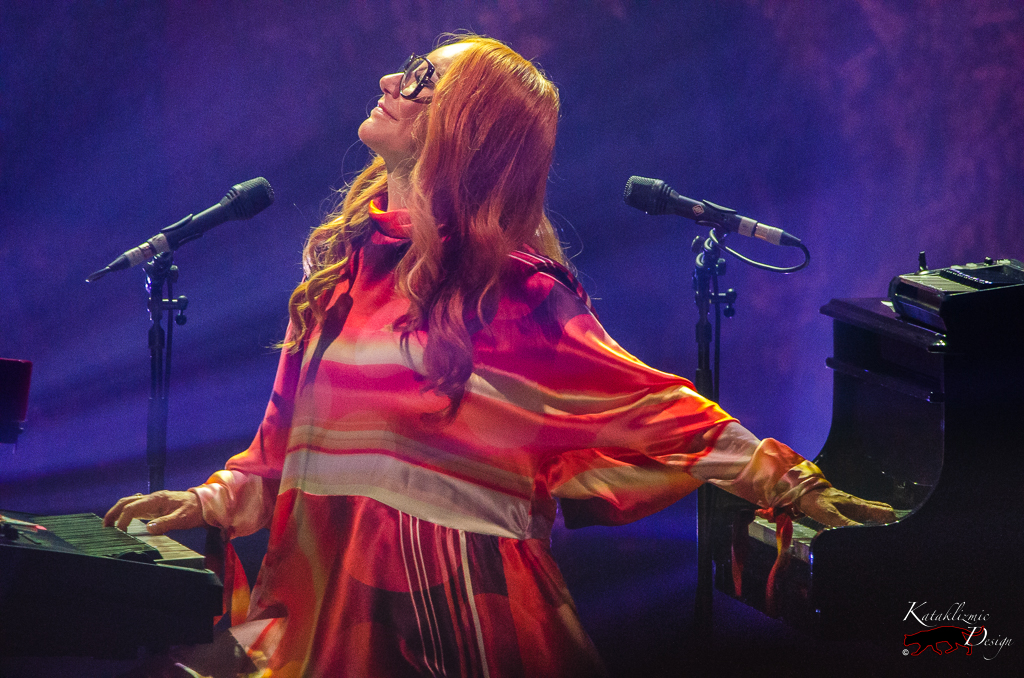 While the night featured only one full cover, "House of the Rising Son," she used multiple covers as interludes during her songs, including The Doors' "Riders on the Storm," worked in with "Father's Song" from 2007's American Doll Posse. However, it was in the song preceding that, "Bliss" from To Venus and Back, when she incorporated Kate Bush's "Running Up That Hill." When the audience exploded to their feet for the beloved song that is now more than 3 decades old, it was a delight, and it fueled a glorious, vibrant performance.
Following the show, I rewatched her 2014 performance of this song from a stop in Kansas City. Maybe this has been propelled by recently being brought to a whole new generation via its use in season 4 of Netflix's Stranger Things, but her rendition of it has evolved. It now has a thunderous, pounding rhythm that was a true highlight to the show. Can one call a cover superior to the original? Like, legally? 'Cause I think that's what I'm doing.
I'd say if the show had a sub-theme to the main one of impeccable female-centric storytelling, it would be a perceptible attention to the zeitgeist of change. For her 8th song she played "Winter" from her breakout album Little Earthquakes, which holds the lyric "things are gonna change so fast." With all that we've been through the past two years, the pandemic, all now together worshiping in this beautiful room at the foot of a goddess and her piano, I kept thinking about our lives as vectors for change. I sat next to a woman who brought her son and had driven down from Sedona. She was so clearly excited to be there, her son more hesitant. He too, like the rest of us, can't see the change that's ahead of us.
Amos has changed, too; halfway through the show, she had a false start and had to ask a member of her road crew for her glasses. Still, she was definitely feeling the love from her audience. Positively radiant in her salmon-colored jumpsuit, Tori rounded out the show by ending on another classic (a personal favorite) from Little Earthquakes, "Cornflake Girl," to inspire the third standing ovation of the evening. Her vibratos on the line, "You bet your life it is" echoed throughout the Orpheum.
What's almost more endearing at every Tori Amos show are all of the superfans, the ones who know every word. This crowd, undeniably hers, was visibly and audibly present this night, too, drawing Tori out for an encore. The lighting was immersive, evoking the feeling of being drawn into a fourth dimension in pinks and blues. It all felt so rich, so special, like all of her stans got to celebrate Amos – her voice clear as a bell and her piano chords striking just the right spaces in our hearts – nearing the end of her "Ocean to Ocean Tour" together, like some kind of deal with God.
Tori Amos Setlist – Phoenix 6-12-22
Juárez
Bouncing Off Clouds (with "Reindeer King" interlude)
Addition of Light Divided
Don't Make Me Come to Vegas
Ocean to Ocean
Bliss (with "Running Up That Hill" interlude)
Father's Son (with "Riders on the Storm" interlude)
Winter (Solo; preceded by "Crazy" false start)
Crazy (Solo)
Russia
The House of the Rising Sun (traditional cover)
God
Amber Waves
Spring Haze
Devil's Bane
Cornflake Girl
Encore:
Tombigbee
Raspberry Swirl
Photo Galleries
Photographer: Katherine Amy Vega
View Separately:
Tori Amos & Companion – Orpheum Theatre 6-12-22

Photography © Katherine Amy Vega, Kataklizmic Design
All Rights Reserved.