Tempe, AZ — It was 2017 when Alter Bridge last took the stage at the Marquee Theatre. As the pandemic subsided, they released new music with Pawns & Kings in October last year and set out on a North American Tour. On this night the stop in Arizona included opening sets by Wolfgang Van Halen's Mammoth WVH and Pistols At Dawn. Although the popular music scene seems to have forgotten how to play guitars, rest assured that the great American guitar heroes are alive and well in the rock world.
In fact, the night opened with a shredding solo from 22-year-old phenom, Will James, that brought the house down just minutes after the lights went down. The second act delivered the Van Halen 2.0 guitarist that wowed the world when he played his father's solos at the tribute shows for the late Taylor Hawkins of Foo Fighters. And the icing on the cake was rock royalty, Mark Tremonti! Fans who love heavy guitar played by virtuosos were in their glory at this show and the decibels were sufficiently over 100dB as prescribed to make sure you heard and felt the music. The vocalists of the night were in top form for this show too as expected, but Myles Kennedy of Alter Bridge was beyond outstanding and proved that he is arguably one of the best singers…ever. Some of his melodies that soared into the stratosphere brought cheers from the audience that rose above the volume of the PA system.
Pistols At Dawn
Sometimes the opening band makes you scratch your head and wonder why they are there, but Pistols At Dawn complemented the essence of Alter Bridge perfectly. They formed in Atlanta in 2015 and shuffled through several lineup changes while recording and releasing singles and a 7-song EP. Last year, the latest incarnation recorded their debut album Ascension on Megaforce Records with producer Sylvia Massy (Tool) and founding members Devin White (guitar) and Adam Jaffe (drums). The band was reinvented with additions of Cris Hodges (vocals), Sean Benham (bass), and the young Will James (guitar) mentioned above.
Ascension has an epic big production sound, which is typical and possibly necessary to complement their contemporaries, but their short set of five songs sounded better live than on the recordings. Hodges, with his day-glo sneakers and open sided muscle shirt, entertained while delivering a flawless performance. Burning Hot Events spoke with him after their set about his upcoming tour with Ugly Kid Joe and Fozzy, and he mentioned that he'll be back in town for U-Fest as a guest singer for Chester Bennington's former band Grey Daze.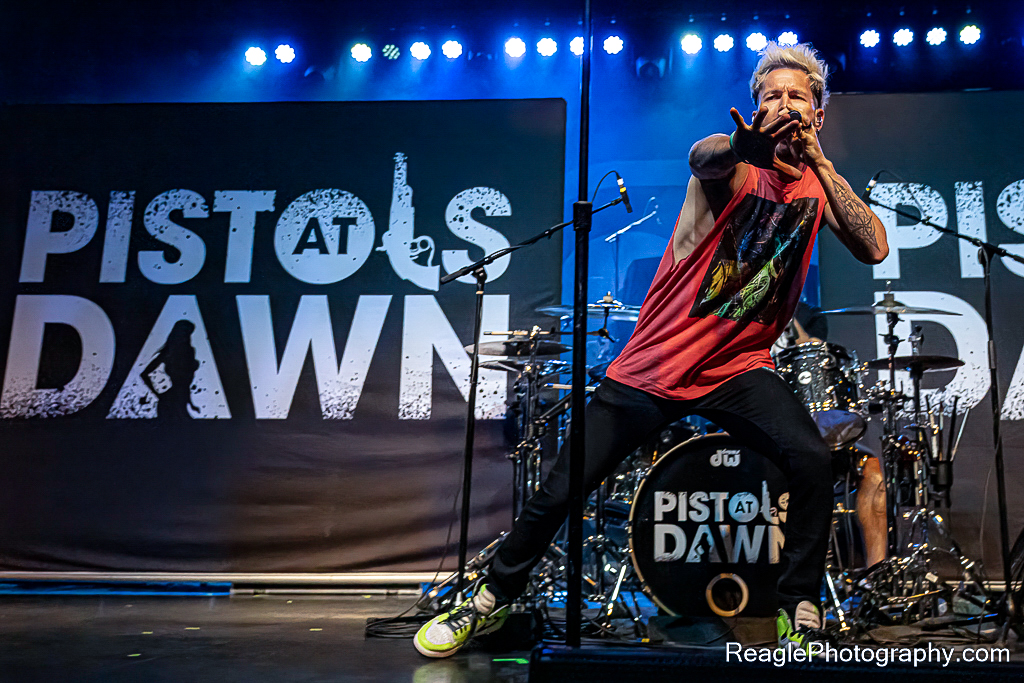 They confirmed it on Instagram saying, "After many requests to perform live, we finally said yes! We will honor our original intention while still paying homage to Chester, by bringing in guest vocalist Chris [sic] Hodges @hodgesofficial to perform with us." Before joining Pistols At Dawn, Hodges fronted a Linkin Park tribute band called In The End and guitarist James was playing his signature green neon-light guitar in a Bon Jovi tribute band called Shot Thru The Heart. They advanced from tribute band to touring with Alter Bridge shows. Dreams do come true.
Mammoth WVH
You'd have to admit that you had your doubts when his dad let him play bass in the mighty Van Halen, but Wolfgang has won over all of the naysayers. When we finally heard him play guitar and sing, and then found out that he also played everything including drums, bass, and keyboards on the debut Mammoth WVH album, we all realized there is something really special in this kid. He inherited that captivating smile from his mother, Valerie Bertinelli, and a broad appreciation and mastery of music from the late Eddie Van Halen. But now he is blazing his own trail and there were no Van Halen songs in the set (or technically we can say that they were all "Van Halen" songs since he wrote every one of them).
In the music video for "Don't Back Down", they show four clones of Wolfgang playing all of the instruments, and while that would be awesome to see live, they had to get some hired guns to cover the parts that he didn't play live. The guitarist on his right was Frank Sidoris who many in the audience recognized from Slash's band with Myles Kennedy and The Conspirators. Ron Ficarro (I Am Ghost, Falling In Reverse) played bass, and Garrett Whitlock (who Wolfgang had played with in the band Tremonti) joined as the live drummer, and lastly the charismatic Jon Jourdan (To Whom It May) joined as a third guitarist. So Wolfgang didn't get to play drums or bass on any songs, but he did play a little bit of keyboards in addition to his guitars.
The 8-song set flew by leaving the crowd wanting more, but they were at least able to include their first two singles which both went to number 1: "Distance" and "Don't Back Down," which closed their set. We were also treated to a new song that had just been released last week called "Another Celebration At The End Of The World" – a true crowd pleaser that drives hard and included a finger tapping speed solo that garnered a round of applause mid-song.
Alter Bridge
This four-piece leviathan keeps building on their foundation of stellar musicianship and rock-solid songwriting. It's a full-on blitzkrieg from the top of the setlist with "Silver Tongue," from the latest Alter Bridge release, Pawns & Kings to the closer "Rise Today" from the Blackbird LP.

Had it really been 6 years since they last came to town? Their loyal fans showed up in droves to welcome them back from the silence of the pandemic, and it was great to see them back on stage where they belong!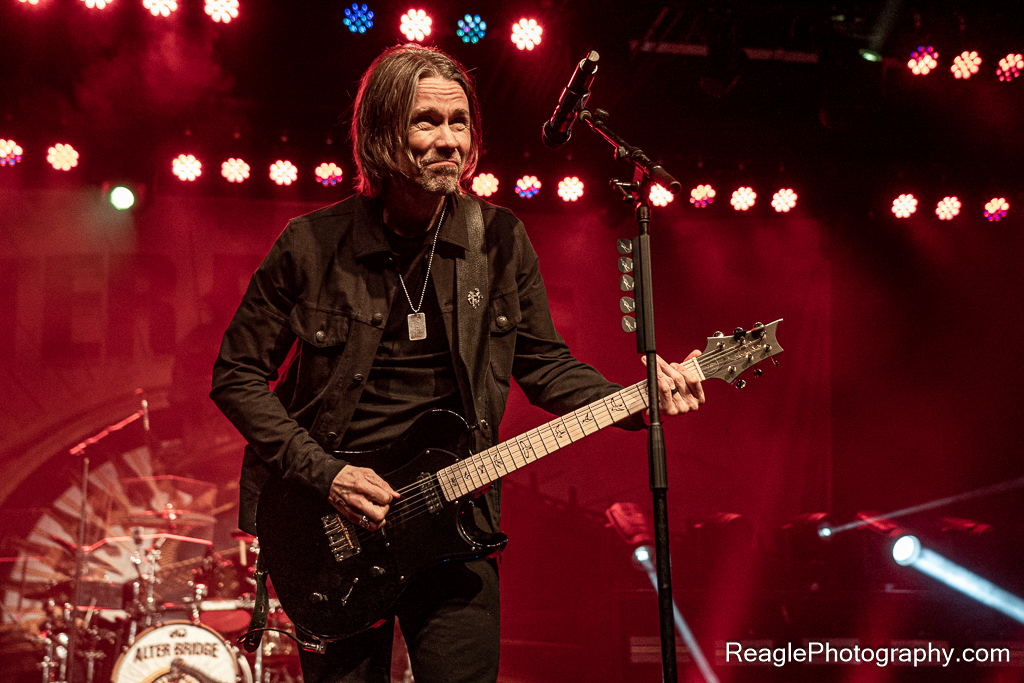 It was a packed house and they may have actually outgrown this midsize theater, but it proved to be the perfect intimate setting to showcase highlights from their 7 studio albums (note that no songs made the setlist from The Last Hero or Walk The Sky). It's not unusual for bands to tell every city that they are the best audience, but Kennedy seemed to genuinely appreciate the fan engagement on this night and gave a heartfelt thank you to the Phoenician crowd.
Tremonti is the guitar hero and Kennedy is the vocal maestro, however they each showed their prowess at switching roles. Tremonti sang harmonies all night and then took center stage to sing the melancholy "Burn It Down" and did an incredible job. Most loyal followers were not surprised knowing that he sings lead in his self-titled band Tremonti and also on his incredible Mark Tremonti Sings Frank Sinatra solo album (seriously check this out if you haven't heard about it).
And on the flip side, Kennedy is relegated to being "just" a phenomenal frontman singer when he is touring with Slash, but in Alter Bridge he contributes to the six-string shredding too.  These dual talents shone brightest on the song "Blackbird." He started the song in silhouette against beams of amber lights emulating angelic wings. An homage of the familiar chords of The Beatles' "Blackbird" ushered in the somber chords of the title track from the Alter Bridge 2007 album of the same name.
The song begins delicately but ultimately crescendos into a symphony of sound bathed in violet lights as Kennedy plays the most soulful guitar solo of the night and then tosses the reins to Tremonti who adds his stamp of originality for this rock anthem. Few songs are truly "moving." This is one. The ending was so powerful that it felt like the final encore as the crowd shouted their approval.
The four new songs were heavy. "Silver Tongue" and "Holiday" carried the traditional flame of fast and furious, while "Sin After Sin" was best received and had that epic slow march of classic metal. The title track, "Pawns and Kings" is a great song with meticulously crafted lyrics, but for some reason it didn't resonate live (possibly the newness needs to become more ingrained or maybe it was the strobe lights aimed at the audience throughout the song).
There was a brief respite from the onslaught of loud guitars with a two-song acoustic set that was just stellar. For "Watch Over You," Kennedy was alone on stage with his Taylor acoustic guitar and a microphone. With each lyric of the song he emoted the feelings of loss of a friend that is just beyond helping. You can't "phone in" the vocals on a song like this, stripped down to just a guitar/vocal, you have to "feel" the emotions and Kennedy made us feel it too.
For the second acoustic song, Tremonti commandeered his Taylor acoustic guitar with the cutaway neck as they went back to their first album for the song "In Loving Memory." Another beautiful song. Cheers arose as Kennedy held the soft falsetto note for 14 seconds effortlessly. Two guys in unassuming black T-shirts held the reverent gaze of everyone in attendance who came to rock-out, but communed in this peaceful moment.  All hell would soon break out again with the aggressive Alter Bridge rockers "Isolation" and "Metalingus."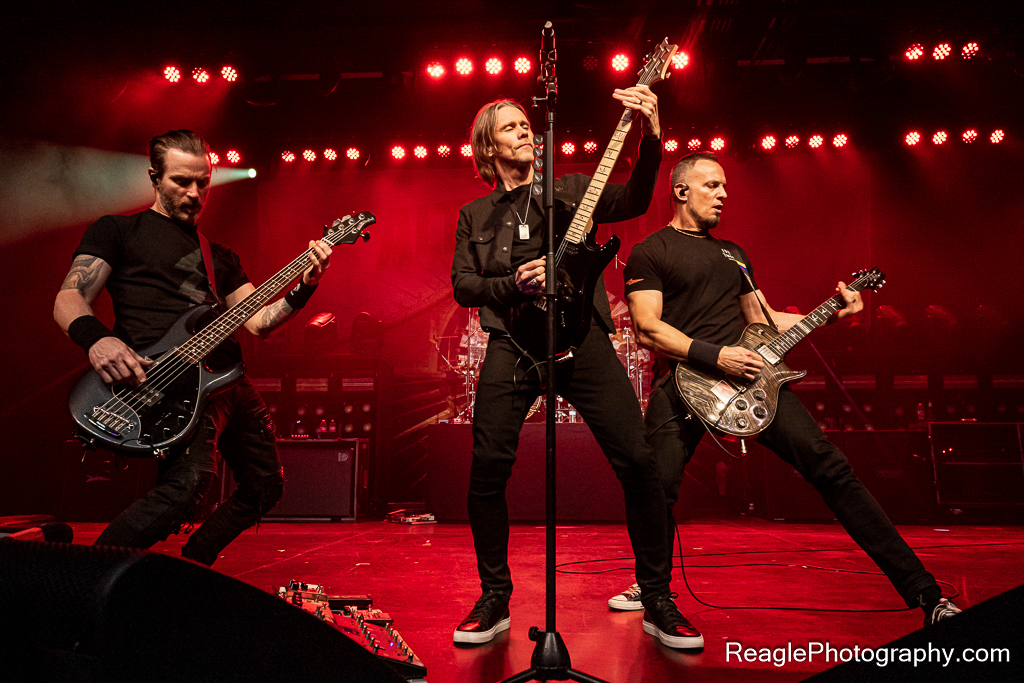 After a 15-song set, they bowed and expressed their heart-felt gratitude to the fans who came out on this night to cheer them on. They left the stage, but the house lights refused to come up and the people began to chant "AL – TER – BRIDGE!" They wasted no time getting back on stage and began some banter with the audience. They apologized to one guy that wanted to come up and play drums with them, but offered maybe next time. Then some guy named Al got the coolest birthday present as Alter Bridge and all of us sang "Happy Birthday" to him.
To close the night they chose two iconic songs. First was "Open Your Eyes," which is the first song that really put them on the map with heavy rotation on MTV (it was much later when most of us learned that Kennedy was that guy from the audience that got up and sang with Steel Dragon in the movie Rock Star). Kennedy let the audience chime in on the signature falsetto melody in the bridge and then proceeded to show everyone how it was really done…so impressive. The choice for the song to close the night was "Rise Today," which most succinctly defined the Alter Bridge sound. The energy was still high and Tremonti banged his head all night (if not for his military haircut, his hair would have been flying all evening).
One last shout out to the rhythm sections for all three bands that aren't as much in the spotlight, but contribute so much to the sound and presence of the stars they support. Brian Marshal (bass) and Scott Phillips (drums) have been working with Tremonti since their commercial success with Creed and they were absolutely phenomenal all night. It's funny how you just expect them to be perfect so you might only notice their passionate playing if there were mistakes…and there were no mistakes that I noticed. They deserve all of the recognition as key components of Alter Bridge!
As the house lights came on and the recorded music came up, was that Frank Sinatra singing as the audience shuffled out? Or could it have been Tremonti?
Photo Galleries
Photographer: Rodrigo Izquierdo
Alter Bridge | Mammoth WVH | Pistols at Dawn
Alter Bridge, Mammoth WVH, & Pistols at Dawn – Marquee Theatre 3-29-23

Photography © Reagle Photography
All Rights Reserved