Jump to Photo Galleries
View Setlists
PHOENIX — All in attendance at this rock & roll revival – Halestorm's mega Summer 2022 tour – were there to bear witness to a concert fronted by some of the top women in rock music today! It was definitely ladies' night on stage, co-commandeered by Lzzy Hale (with her flagship rock & roll machine known as Halestorm) and Taylor Momsen (with her nuclear destroyer blitzkrieg known as The Pretty Reckless).
Photography: Mark Greenawalt
But wait, there's more! These two co-headliners brought an additional bevy of ladies to the shed with supporting acts Lilith Czar and The Warning. This entourage began this Summer Tour 2022 in Detroit in July and will wrap up the twenty-one stops in Portsmouth in August. This night's "sermon" was held at Arizona Financial Theatre for the Phoenicians. And it was good… Correction – It was great!
Lilith Czar
Lilith Czar had a short set and half empty arena to deliver it to. Despite that, she and her band played their asses off and established their reason for being on this stellar bill. Fans know her to be the artist formerly known as Juliet Simms, who CeeLo Green coached to the finals in the 2011 season of The Voice. In 2021 she re-tooled her look and her sound and changed her moniker to Lilith Czar, and this was the night her new persona touched down in Phoenix (note that in March '22 she played Mesa Amphitheater with Black Veil Brides).
Her hair was raven black with bangs like Bettie Page. She was dressed in red leather short-shorts and a red lace shirt to match. Accessories included hoop earrings, a black leather choker, and a black leather vest that came off early in the show – a very evocative look. Her set began with "Feed My Chaos" and "100 Little Deaths," a song carried over from her Juliet Simms days. Her voice is the same as when it won us over singing "Oh! Darling" by the Beatles on The Voice blind auditions, but the music has gotten much heavier. Between songs she armed herself with an Epiphone Les Paul Gold Top guitar and later an acoustic guitar.
Despite the low energy of the early crowd, her band put on a stellar performance and special shout out to drummer Lindsey Martin, who truly seemed thrilled to be behind the drum set. Crowd participation peaked when the band did a cover of "Edge of Seventeen" by Stevie Nicks and then rolled out the songs from her current music video suite for "Lola," "King," and "Anarchy." Lilith Czar has developed a unique sound and a unique look and her loyal fanbase is coming around. We're looking forward to seeing and hearing her future offerings.
The Warning
The convergence of these four particular acts may never happen again and it was a thrill to experience the "dark horse" performance of The Warning. I expected to be blown away by Halestorm and The Pretty Reckless, but The Warning was such a pleasant surprise of an up-and-coming act…that has arrived! Their story is documented in countless YouTube videos about these three sisters from the city of Monterrey, Mexico. They were just children when they did a video of themselves covering Metallica's "Enter Sandman." It went viral. The youngest, bassist Alejandra, is still just 17 and the oldest sister, guitarist Daniela, is just 22. The middle sister of the Villarreal family is drummer Paulina (age 20).
Most of their original songs were from their third studio album, Error, however they did take a moment to show how much their musicianship has blossomed by doing a new cover of "Enter Sandman," and it was very impressive. All three sisters sing and their stage presence is invigorating to watch. Although they may have been new to many attendees, there were quite a few die-hard fans singing along to every song.
Their YouTube reach has continued to grow with more seasoned music videos for songs "Choke" and "Disciple." These videos show that those cute little children have grown into beautiful women, not to mention they have evolved as songwriters too. Their heavy sound has traces of the bands that have influenced them, but their musical style is uniquely their own. Crowd favorites tended to be their current single "Money" (which reverberated echoes of "Seven Nation Army"-meets-"Balls To The Wall") and the closing song "Evolve," which has prog rock elements. Keep your eyes peeled. We haven't seen the last of this power trio from Mexico!
The Pretty Reckless
In 2020, Taylor Momsen was ready to hit the road in support of Death By Rock & Roll. The title track had been pre-released and shot up to number 1, then the pandemic hit. The album release date kept getting pushed back until it finally was released in February of 2021, but touring was still not in the cards. Finally, 2022 is proving to be the year for The Pretty Reckless (TPR) to reconnect with that tangible live experience. The press for this show implied a dual headline of Halestorm and TPR, but it was soon clear that TPR were relegated to being an opening act with a fraction of the full stage, less lights, and about half as many songs. They handled it with grace and thanked Halestorm for bringing them on the tour, but it seems they may have been somewhat short changed for a band that sports 7 number one songs (one more than the headliner).
The set opened with a cover of Soundgarden's "Loud Love," a song The Pretty Reckless recently recorded for Sirius XM with Soundgarden's Kim Thayil on guitar and Matt Cameron on drums. Momsen has cited Soundgarden as a huge influence and she again recruited Thayil and Cameron to play a track on the new album, "Only Love Can Save Me Now." This song, another number 1, also made it into the short set. The Pretty Reckless were on a career high when they had the pleasure of being the opening act for Soundgarden until the tour tragically ended with the passing of Chris Cornell.
There was a mix of new songs like "Witches Burn," a rocker with a nostalgic AC/DC feel, and back to their first single "Make Me Wanna Die." You know it's real live music when there is a bass malfunction and guitarist Ben Phillips stops the show and says, "Hold up. Stop. I don't wanna play the song without bass." The problem was fixed right away and Phillips continued, "Let me decide where we're going to pick up. This is how live rock and roll could work. I can count this out where ever the fuck I want it to start." He chose to start back at the first verse, the crowd cheered in agreement and just like that, they were back in the swing of things. No tracks to sync up to, just live music. Much appreciated.
Momsen looked beautiful with the smoky eyes and glittering eye shadow and wore her platform biker boots and black silk camisole like a superhero costume. There was no doubt that she had reinvented herself when she started this band and left Cindy Lou Who and Gossip Girl behind in search of her own identity. It's working. She exuded sexiness with a devil-may-care attitude and you could tell that her primary goal wasn't to turn you on with her womanly wiles, but to draw you in with her voice, to deeply experience her music. Her voice was in top form as she emoted smoky smooth low notes in "Going To Hell" and then launched into raunchy, gravelly high notes in "Heaven Knows."
So many good songs had to be left on the cutting room floor like "Follow Me Down," "25", and "And So It Went", but they did save a really good one for their final number. Momsen thanked the opening acts and Halestorm for bringing them on this tour. "I don't know about everyone here, but all I wanna do with my life is fucking rock, and fucking roll, and play fucking music," she said, "And thanks to all of you, I get to do that and that's absolutely incredible. So thank you from the bottom of my heart, from all of us. We love you so much."
The song "Take Me Down" is an amalgamation of all the greatest hits of classic rock mixed with that signature sound of The Pretty Reckless. It's a song about selling your soul for rock & roll. Momsen donned an electric six-string as the band played from their souls and she sang from her heart. Great show!
Halestorm
Halestorm is no stranger to Phoenix. In fact, they were here in November 2021 with Evanescence in this same venue. Hale and company are back this time with a fresh set of monster tracks from Back From The Dead, just released in May. Last year's show introduced the title track "Back From The Dead," which was riding high at number 1 on the charts at the time. Tonight's show took a deeper dive with half of their 16-song set being new material. Two of the new songs were more familiar due to radio airplay including "Wicked Ways" and the number 1 song that capped off the night, "The Steeple."
The opening acts had the audience primed and ready for the Halestorm experience, which began as a black veil that dropped, revealing the band 8' above the stage on platform risers leading to the drum cage. Two colors popped out of the scene under the blistering white lights: the cardinal red of Lizzy's signature Gibson Explorerbird (with matching lips and sexy boots) and the neon green glow of drummer Arejay Hale's hair, drumset, and modern-day zoot suit! Poised for attack, they left no doubt that their intention was to thoroughly entertain!
Praise be to Lzzy Hale, first for her songwriting prowess on every Halestorm song (including six number 1's, by the way), second for her mastery of the guitar which earned her a coveted sponsorship last year from Gibson Guitars as the first female brand ambassador, and third…good Lord almighty, that voice! How she reaches those notes with such a growl and perfect intonation, night after night for months on end is truly one of the natural wonders of the world. Steve Whiteman (Kix) may have given her some tips to the secret sauce of belting, but there is something about her vocal anatomy that makes her a celebrated freak of nature.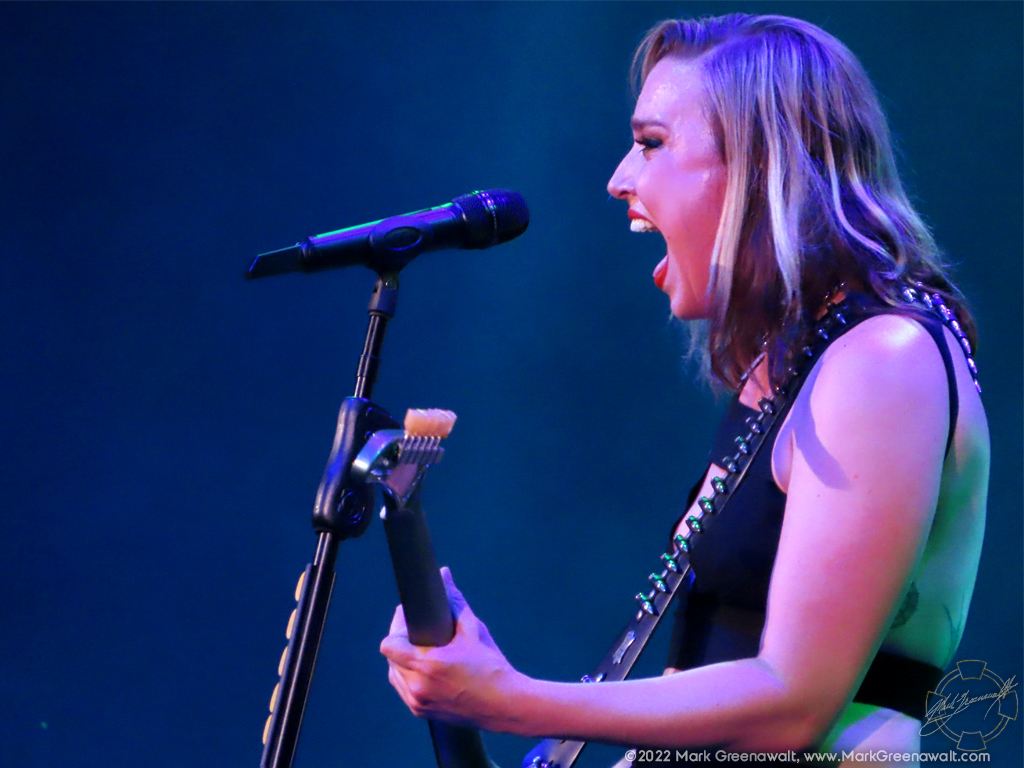 The rasp was on full display on songs like "I Am The Fire," "Psycho Crazy," and "I Miss The Misery," but she proved that her voice is much more than controlled screaming when the show entered the proverbial eye of the hurricane for the ballad "Break In." All the lights went down except for the spotlight on the piano at center stage. Oh yeah, did I mention that she's also accomplished on piano? She played solo and had the audience in the palm of her hand during the new acoustic anthem "Raise Your Horns." Janis Jopplin had to be looking down and smiling for this song. Touching.
Although she is undoubtedly the focal point for most, the band is rock solid at every position. Brother Arejay Hale is a phenomenon to watch on the drums. He is technically precise, but exudes fun and antics while delivering a clinic on professional drum techniques. He did a drum solo which included some interesting oversized drumsticks (still smaller than the broom sticks he used when Halestorm played the Arizona State Fair in 2017). Although cool, the drum solo was unnecessary in the sense that his playing was so incredible throughout the show that there was nothing left to prove! Guitarist Joe Hottinger and bassist Josh Smith seemed to keep their nose to the grindstone and play to the masses while the brother/sister act basked in the spotlight. But make no mistake…they didn't (make any mistakes, that is). The band was tight and obviously rehearsed after years on the road.
It's a shame when really good songs have to be cut from the setlist to make way for the new, but ones that remain are the ones that bring the crowd to their feet. In the bottom of the ninth, it was time to bring out the closers: "I Miss The Misery," "Freak Like Me," and a personal favorite from the debut album, "I Get Off." What a climax! And then an encore of thank yous, "Here's To Us" and finally, America's (dare I say the world's) new rock anthem, "The Steeple."
Lzzy Hale closed the night with a song reminding everyone that this was her church and these were her people: A healthy mix of genders, races, and ages with a common passion for great music.
Photo Galleries
Photographer: Mark Greenawalt
Halestorm, The Pretty Reckless, The Warning, & Lillith Czar – Arizona Financial Theatre 8-5-22

Photography © Mark Greenawalt.
All Rights Reserved