PHOENIX — Apocalyptica finally brought their Cell-0 Tour to The Van Buren after being postponed for almost two years. Originally, they were scheduled, with the support from Lacuna Coil, for May 10th, 2020, but due to the pandemic it was pushed to April 2022. Having been released in 2020, this is the first time songs from the Cell-0 album were performed by them live in Phoenix. Most know The Van Buren as a standing-room only venue, but this show was seated to allow guests to close their eyes and lose themselves in the music.
Lacuna Coil
Lacuna Coil kicked off their set with the song "Blood, Tears, Dust" from their 2016 album Delirium. Vocalist Cristina Scabbia addressed the crowd before the following song, saying, "Phoenix, are you out there?" and the crowd roared back.
They did not disappoint fans, playing a song from nearly every album, and five from their newest one released in 2019: Black Anima. Known as a gothic metal band, it's clear they lean into that image with bassist Marco Coti Zelati, guitarist Diego "Didi" Cavalotti, and drummer Richard Meiz all wearing black and white face paint. Meanwhile, vocalists Scabbia and Andrea Ferro were dressed in all black with the band's logo on top of their sleeves and fake blood painted on their hands.
"Phoenix, Arizona, how are you guys doing tonight? It's been forever and it feels great to be back in this beautiful place with you guys celebrating this comeback after twenty-six fucking months. I'm telling you; it still feels very surreal to be back, but we have all the energy of the world to share with you guys tonight. Are you ready to party with us? I think it's time to be reckless!" Scabbia shouted before they played "Reckless" from Black Anima.
"Are you having a good time so far?" Scabbia asked, pausing as the crowd cheers. "Good, because this is exactly what we're here for. Well, I don't know if each one of you is familiar with Lacuna Coil, but you might remember this next song, it's called 'Heaven's A Lie'." Many in the crowd stood to film and sing along with "Heaven's A Lie", a throwback from their 2002 album, Comalies.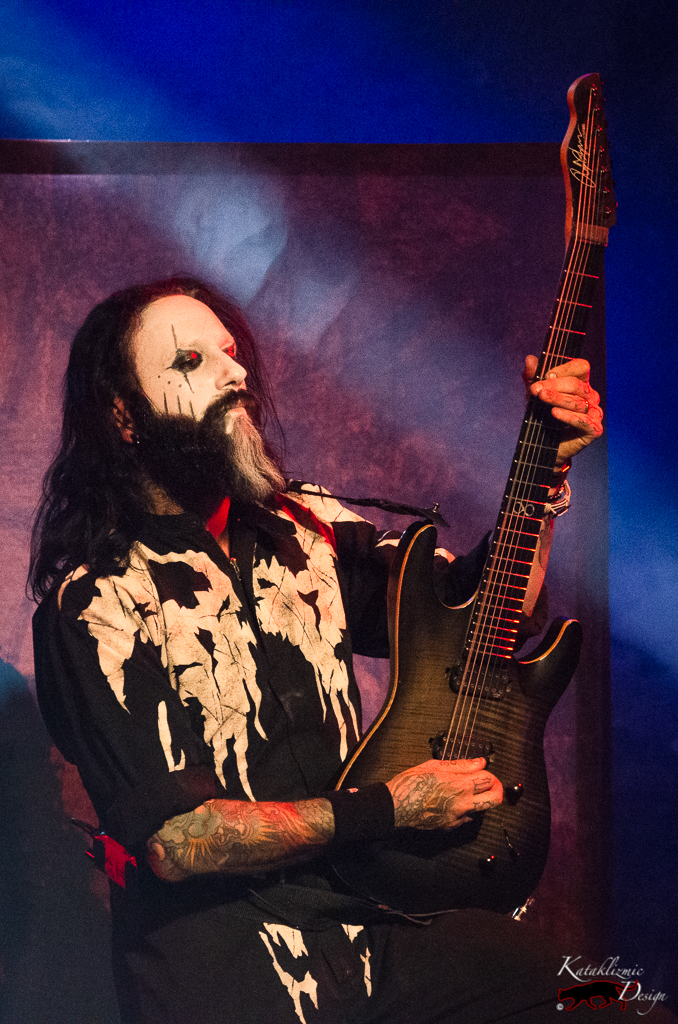 "This goes out to all of us for surviving this damn pandemic! Just wanna save me!" Scabbia screamed as the intro to "Save Me" began. Later on, she said, "We came all the way from Italy to raise our truth!" as the band started the song, "Our Truth."
Lacuna Coil concluded their ten-song set with "Nothing Stands in Our Way". Most of the crowd stood for their entire set, singing and raising their horns in the air.
Apocalyptica
Over black, nature music swelled in the background before the sounds of strings drifted over the audience. Then, drums shook each person to their core as the lights went up, highlighting that Apocalyptica had now joined the stage. After opening with "Ashes of the Modern World", cellist Eicca Toppinen paused to address the excited crowd, "Good evening, Phoenix. How are you guys doing tonight? It sounds like you're already having a good time. Are you ready?" He paused to hear the audience's fervent response, and with enthusiasm, he added, "Come on! Are you ready?" The crowd screamed back, ready for more.
Their first three songs were all instrumental as Toppinen, Paavo Lötjönen, and Perttu Kivilaakso shredded their cellos and Mikko Sirén rocked on the drums. "Thank you!" Toppinen replied to the roaring audience. He continued, "Do you guys happen to know any of our vocal tracks? Are you ready to sing with us? Let's welcome to the stage, Franky Perez!" Perez ran on stage, mic in hand, and sang, "I'm Not Jesus" from their 2007 album, Worlds Collide.
Toppinen leaned on his cello as he addressed the audience again: "Hello, Arizona. Actually, just before this tour, January 2020, we released a new album called Cell-0. Anyone here heard of it?" He shielded his eyes, looking over the cheering hands in the air. "Good for you," he jokes. "Just makes me wonder what the fuck is wrong with the others. But don't worry, we will give you a dose now because we're going to play a few of those instrumentals. Let's start with the ballad, it's a song about hope: 'Rise'."
"I actually have to say at this point, that how incredibly amazing it is to be here tonight. After waiting over two years and all you people coming still to have fun with us. It's beautiful." Toppinen then motioned to the side of the stage and said, "Let's get the maestro himself back on stage, Franky Perez!" Toppinen and Perez then side hugged.
"As many of you might know we made a full album with Franky in 2015, the Shadowmaker, and toured for two to three years but after that, we went into this 20th anniversary Metallica thing so it's really cool that Franky reached out to us. I thought this would be perfect for us to be together," Toppinen concluded as their newest single "I'll Get Through It" (released March 17, 2022) began.

The song whisked people away. Couples cuddled closer in their seats. In the front row, a man drummed the beat onto his wife's back as her gaze was glued to the stage, and she mouthed along with the words. People all around were caught in the moment, truly feeling the music in their hearts, in their bones. Being in the middle of the audience you can understand why this Finnish symphonic metal band from Helsinki has been killing it since 1993.
Franky smiled, saying, "You guys are going to do this a bunch of times tonight but I want to join you, please join me in giving this amazing band a round of applause tonight." A sea of clapping hands and cheers filled the venue. "So, my name is Franky Perez and I'm from Las Vegas, Nevada. When you think about people from Vegas and people from Arizona, we understand each other. We see each other on the street and we just know… it's the dry heat." It's funny 'cause it's true. "This song is called 'Shadowmaker'," Franky finished, as the cellos and drums shifted into the song's intro.
The crowd banged their heads along with Toppinen and Kivilaakso as their bows cut into their strings and their long hair flew. At times, they raise their cellos in the air. The energy was alive, the music was alive. Toppinen grabbed the mic, shouting, "Come on Arizona. Sing if you know it!" as they played a cover of Metallica's "Seek & Destroy."
After playing fifteen amazing songs, Toppinen asked, "What do you think, should we play one more song? Do you want to hear one more? Good. That's very nice because I really think we should play you one more song. As you know from our background, we are classical bastards so I think it's fair to play one classical for you tonight. During all the times Apocalyptica actually only recorded one so far but it makes sense to stay on our socials because you never know what's going to happen next. But now, a classic from black metal." They concluded the show by playing the Edvard Grieg song, "In the Hall of the Mountain King".
As the music faded out, Apocalyptica was given a standing ovation. A cheerful Lötjönen handed two eager fans their paper setlists, and Toppinen addressed the audience one final time: "Thank you, Phoenix. Thank you so much. Thank you everybody for coming and taking your time to come tonight. I also want to thank our Italian friends, the great first band tonight. Let's give a big hand for Lacuna Coil. Have a good evening. On your way out, pick up a new t-shirt because you smell like shit. I don't know, maybe it's us." The crowd laughed, and Toppinen chuckled before getting serious, "Honestly, take care of yourselves, take care of each other. Love each other and love yourselves. See you guys all soon. Because Apocalyptica will be back and that's for fucking sure!"
And with that promise, Apocalyptica exited stage right as their fans screamed. What an epic concert for metal fans! It was definitely an unforgettable show for everyone who was lucky enough to bear witness.
Photo Galleries
Photographer: Katherine Amy Vega
View Separately (with more pics!):
Apocalyptica & Lacuna Coil – The Van Buren 4-15-22

Photography © Katherine Amy Vega, Kataklizmic Design
All Rights Reserved.