PHOENIX — Before Flogging Molly's concert at The Marquee Theater – with support from Vandoliers and Russkaja – even began, there was a vibe in the crowd different from anything seen the last time concerts were a normal occurrence, and it led to what made this show so special. You see, back in those waning, naïve days of January and February of 2020 – before our lives were collectively turned upside down, leaving us wondering if any semblance of normalcy would return, let alone gathering en masse to enjoy live music once again – we could see live shows whenever we wanted. Though we may not have realized it then, we took live music for granted.
No, the crowd on Tuesday night at the Marquee was buzzing with a noticeable sense of joy, community, and most of all, gratitude. Strangers happily chatted away with each other when the house lights were still on and an array of punk and classic rock was piped through the P.A. Conversations centered so much on "I was supposed to see… until…" and many specifically mentioned having tickets to see Flogging Molly in spring of 2020. No one was taking this moment for granted, because so much was survived to get to this point.
Vandoliers
Openers Vandoliers hail from Dallas, Texas and were described on the hype sticker on the vinyl pressing of their 2019 album Forever as sounding like a cross between Boston Irish punk legends Dropkick Murphys and Arizona's own Calexico. With so many physical miles between Boston and Tucson and just as many musical style miles between the two as well, the description was intriguing. At the start of their set, the description immediately made sense. With a similar style of rhythm section, made up of bassist Mark Moncrieff and drummer Trey Alfaro, combined with guitar and aggressive vocals from Dustin Fleming, the Murphys-punk influence was evident. What made their sound so unique, though, was the addition of fiddler Travis Curry and multi-instrumentalist Cory Graves who combined to bring a southwest seasoning on top of the Irish punk brew.
Their seven-song set was fast and furious, punctuated with shout-along should-be classics like "Cigarettes in the Rain," "Sixteen Years," and "Troublemaker," which should be the band's anthem and the anthem for anyone who were told early on that they'd "be a problem" in life. They closed their set with a cover of Scottish rock duo The Proclaimers' classic, "I'm Gonna Be (500 Miles)," recasting the early 90's alternative sing-along smash as a rowdy West Texas bar band end-of-the–night, last-call rager. If there was a person in attendance not singing along throughout, they were not easily spotted amongst the packed crowd.
Russkaja
Austria's Russkaja, self-described as "Russian Turbo Polka Metal," played second. With a foundation of traditional Russian music, they layer it with a confluence of styles, ranging from punk to ska to metal to, yes, polka, all rolled into a wholly unique sound. Founding member and vocalist Georgij Makazaria leads the charge alongside bassist Dimitrij Miller, guitarist Engel Mayr, violinist Lea-Sophie Fischer, Mayr, potete player Hans-Georg Gutternigg, and drummer Mario Stübler, with each member contributing their own particular stitch to their vast tapestry of sound. Mayr's guitar playing shifted effortlessly between ska and metal, not just across the entire set, but even within one song.
The highlight of their hard-charging set, though, was not even music, but a somber moment midway when Makazaria and Miller stood together and spoke to the crowd not as musicians but as citizens of two countries. Makazaria is Russian and Miller is Ukrainian and together they condemned the war and called for peace and love.
"The people of Russia and Ukraine have to fight against each other, and it is terrible. This is the politics that is destroying peace. We condemn this fucking war. We are against this war! Instead of battle stations, we bring some music equipment and make a festival. We will not give the world a chance to destroy our music!"
It was as powerful, if not more so, than any note played or any lyric sung, and it underscored a theme, intentional or not, that was playing throughout the evening: through disease and war and a score of so many other horrible things plaguing our world now and in the future, we are all very lucky to be together sharing a space and letting live music nourish our souls.
Flogging Molly
What was once an annual tradition, Flogging Molly's St. Patrick's Day Tour, like so many other tours, was put on hold, going on a two-year hiatus, save for a St. Patrick's Day show done via Zoom for fans last year. While their concerts are always a must-see event, they performed with a renewed vigor. Opening the show with "Drunken Lullabies," from their 2001 album of the same name, there was an extra punch to every note and every lyric.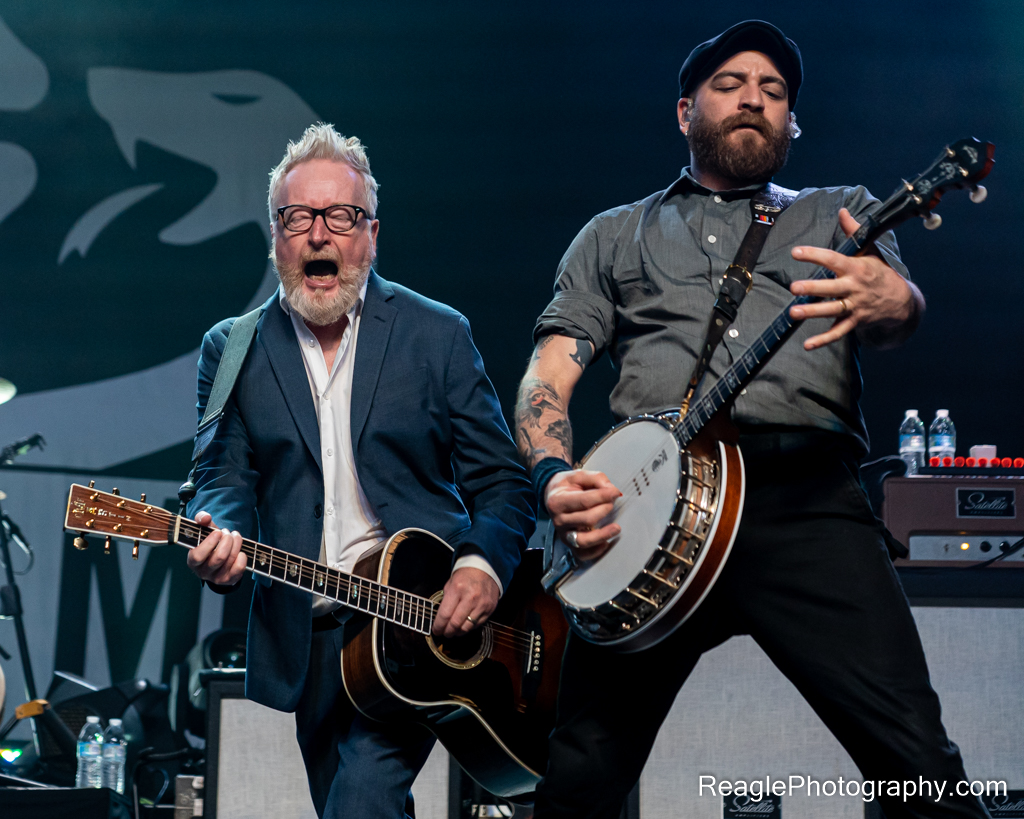 Hitting some old favorites early in the set, that theme noticed so early in the night amongst the crowd chatter re-emerged as frontman Dave King touched on the feelings so many of us had surviving the past two years, with the emotional struggles and low-low points before launching into "The Worst Day Since Yesterday" from 2000's Swagger, which immediately took on a new feel. They followed it with their first new song of the night, written during those early scary and confusing days, called "These Times Have Got Me Drinking," which given the crowd's reaction to it, will easily stand beside so many of the band's greatest.
Flogging Molly have always been a tight band, both on their albums and performing live, but each member was in top form throughout the night. King regularly shouted out members of the band between songs. With such an incredible group of musicians holding down each song, it allows King to be so many things throughout the show: singer, showman, dancer, and all-around master of ceremonies. A lesser band would not be able to afford such freedom to the frontman, but Bridget Regan (violin, tin whistle, and King's wife of almost 15 years), Dennis Casey (guitar), Matt Hensley (accordion), Nathen Maxwell (bass), Spencer Swain (mandolin, banjo, and guitar), and Mike Alonso (drums) are all so accomplished that it gives King a wide lane in which to play. One minute, he'll be bantering with fans, and the next, he'll have his pant legs pulled up, as he dances around the stage, sometimes doing an impromptu jig and others doing a one-man chorus line.
This is what makes a Flogging Molly concert so special: it never feels overly-rehearsed but instead gives each show an impromptu feel, like each moment is special for that night's audience exclusively. These moments accompanied a run through a great many classics, including a particularly rousing run through "If I Ever Leave this World Alive." They left the stage after "Seven Deadly Sins" from 2004's Within a Mile of Home that felt like it was a well-rehearsed rendition between the band and the entire crowd who sang along and mimicked each one of King's movements.
Returning for an encore, they finished the set with "Tobacco Island," also from Within a Mile of Home. That was not, however, how they closed the show. While it has become the norm for many bands to have a walk-out song (Vandoliers came out to The Vandals' "Urban Struggle," Russkaja played an anti-war message set to a dark, ominous beat as they walked out, and Flogging Molly themselves used The Who's "Baba O'Riley," paired with the acapella intro to their own "The Wrong Company"), but very few bands have a walk-off song. While most shows end with a good night, band walk off, and the house lights coming on as music is piped over the P.A., Flogging Molly played "Always Look on the Bright Side of Life" from Monty Python's The Life of Brian.
While not as well-known to the audience, save for this journalist and others within his particular age range, the lyrics, even to fresh ears, served to punctuate the night's theme: "If life seems jolly rotten, there's something you've forgotten, and that's to laugh and smile and dance and sing." As the song played out, the group stood together, joined by various members of Vandoliers and Russkaja in kick lines, as King handed out set lists to the younger fans (there were many older fans in attendance with their children), and playfully blew kisses to the audience before everyone at last left the stage with the song's fading notes and those awkward feelings of 2020 despair dissipating. Nights like this remind us to never again take live music for granted, because it's one of our true blessings, and that alone should hopefully keep us all on the bright side of life.
---
Photo Galleries
Photographer: Rodrigo Izquierdo
View Separately:
Vandoliers
| Russkaja
| Flogging Molly
Flogging Molly, Russkaja, & Vandoliers – Marquee Theatre 3-15-22

Flogging Molly Setlist 3-15-22

"Drunken Lullabies"
"The Hand of John L. Sullivan"
"Swagger"
"Selfish Man"
"The Worst Day Since Yesterday"
"These Times Have Got Me Drinking" (new song)
"Life in a Tenement Square"
"A Song of Liberty"
"Float"
"Black Friday Rule" (with extended guitar solo)
"Croppy Boy" (new song)
"Devil's Dance Floor"
"Crushed (Hostile Nations)" / "We Will Rock You" (Dedicated to people of Ukraine)
"If I Ever Leave This World Alive"
"Salty Dog"
"What's Left of the Flag"
"The Seven Deadly Sins"

Encore:

"Tobacco Island"
Photography © Reagle Photography
All Rights Reserved